Rider round up; is Lorenzo or Pedrosa the odd man out?
With Alex Rins, Aleix Espargaro and Andrea Dovizioso all extending their respective contracts this past weekend in Le Mans, the seats for 2019 are filling up fast and it looks as if one or more big names may be left looking on.
The joker card in the pack is that of Joan Mir. The 20-year-old Spaniard is the man they all want. Despite his manager stating that he hasn't signed a pre-contract with HRC, Motorsport are sure that the Marc VDS Moto2 rider has signed a pre-agreement with the Japanese factory, something PecinoGP have backed up, stating its been signed from his Moto3 days. 
They state that Honda have until the end of May before the pre-contract is void, opening the door to both Suzuki and to a lesser extend Ducati to negotiate with Mir. 
Speaking to people in Le Mans, it appears that Mir does have a contract with HRC, but they would like to get Mir in the LCR team alongside Crutchlow on a factory bike with Pedrosa alongside Marquez in 2019, before moving into the factory team in 2020. Mir on the other hand wants the full factory seat next to Marc Marquez, currently leaving the two parties in a bit of a standoff. 
That is where the allure of Suzuki comes in for Mir. Honda's plan mirrors that of what Yamaha had wanted for Alex Rins in 2017. Yamaha wanted to tie Rins down and place him in the Tech3 team, letting him find his feet in MotoGP before jumping into the factory seat. However, once Viñales' move to Yamaha was confirmed the chance to be a factory rider for Suzuki won Rins over. 
With Rins' successes and progression earning him a new two-year deal, Suzuki are looking at the possibility of pairing the Spaniard's.
Whilst not able to officially talk to Suzuki yet, the chance to go straight into a factory ride with the Suzuki seen as the perfect first step by many. The ride-ability of the GSX-RR along with the close knit team and modest expectations is a real attraction to Mir, which would see him follow in the footsteps of Viñales and Rins by competing in their rookie season on a factory Suzuki.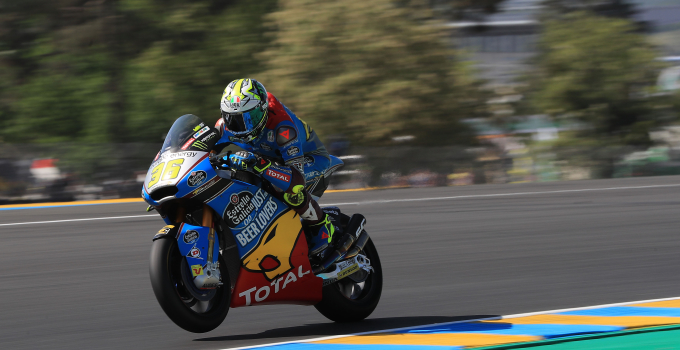 Depending on the outcome of the Mir situation will have a direct correlation with the future of Jorge Lorenzo. 
Lorenzo has been lined up by Suzuki to replace Andrea Iannone and the five-time World Champion may end up replacing the Italian yet, but talks have been put on hold whilst Suzuki wait to see what happens with Mir. 
Lorenzo would take a substantial pay cut from Suzuki compared to what he is on at Ducati, but the prospect to be back on a bike which suits his strength appeals greatly to Lorenzo, whilst also being able to stay on a factory bike. It also allows Suzuki to bring in some star power who on the right bike is still capable of not only challenging at the front but winning multiple races. 
If Mir ends up with Suzuki, Lorenzo and Iannone would be going head to head for the second seat in the Aprilia factory. Last season Aprilia were serious about taking Iannone from Suzuki although they were unable to get 'the Maniac' to break his contract with Suzuki. 
Aprilia are keen to get an Italian on their bike and see Iannone as a realistic option as they continue to develop the RS-GP. 
Lorenzo would be more than considered for the seat should he be available. The Spaniard worked closely with Aprilia during his 250cc days and although a lot of the names associated with the 250 project have moved onto pastures new – see Dall'Igna – Lorenzo is still held in extremely high regards by the Noale factory. 
Back to Mir, and if HRC decide they want a fresh face in the factory and decide to put Mir in the factory team alongside Marquez, Pedrosa would be scrambling for a ride after being a Honda rider for the entirety of his career. 
Suzuki would look at Pedrosa as would Ducati and Aprilia, but Suzuki would rather go with Lorenzo whilst neither Ducati nor Aprilia overly appeals to Pedrosa, leaving him with satellite options as the most realistic options. 
The current internal issues within the Marc VDS team means discussions over what bikes they will be using in 2019 have been put on the back seat, but there were very real talks with Yamaha over replacing Tech3 with Franco Morbidelli a big part of those talks. Yamaha are a big fan of the Italian and would love to get him from Honda as a potential Rossi replacement down the line.
Don't be surprised to see Marc VDS move over to Yamaha and see Pedrosa on a Crutchlow with HRC/Petrucci with Ducati, factory Yamaha but in satellite colours, breaking the mould and going against what Lin Jarvis has publicly said. 
Pedrosa would also consider a Tech3 seat with his close ties to not only Mike Leitner but his longterm sponsorship with Red Bull and the prospect of a factory spec bike in a satellite team, although this is seen as an end of the line option for Pedrosa. 
Petrucci will replace Lorenzo in Ducati and the current games are just posturing with Miller staying in Pramac on a factory Ducati deal, partnering the already signed Bagnaia but on a GP19 on a similar deal to that of Petrucci's this season. Don't be surprised if it's a one year deal for Petrucci with Ducati big, big fans of the Australian. 
In other rider news, Alex Marquez will be moving up and will either be in the Marc VDS team if they stay with Honda or with the LCR team if Mir doesn't and Marc VDS move to Yamaha. Jonas Folger is planning on returning in 2019 and he will be looking for a MotoGP seat, whilst Lorenzo Baldassarri is looking for a MotoGP ride and has been linked with the second KTM seat, as has Xavi Vierge. 
Mir is the key to the whole paddock and once his future becomes clear, a lot of the other seats will fall into place and Mir may be ready to sign a deal as early as next weekend in Mugello. 
Photo via Ducati Corse and Marc VDS Racing