Marquez and Pedrosa ride with Alonso on Honda Racing Thanks Day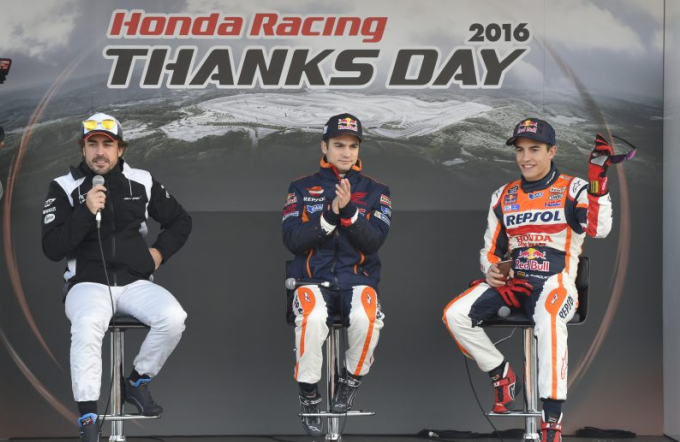 Repsol Honda rider Marc Marquez and Dani Pedrosa joined other Honda employees at Motegi to take part in the 2016 Honda Racing Thanks Day. 
The Spaniard's joined HRC Trials riders Toni Bou, Takashisa Fujinami and Jaime Busto, HRC MXGP rider Evgeny Bobryshe and McLaren Honda F1 drivers Fernando Alonso and Jenson Button. The MotoGP riders and F1 drivers drove and rode an array of different cars and bikes around the Motegi circuit in front of 20,000 passionate fans.
There was a go-kart race on Saturday morning before both Marquez and Pedrosa changed into their leathers and rode custom painted CBR250 Dream Cup machines. After a few laps on the 250 bikes, Pedrosa went out on his 2003 125cc World Championship RS125R bike, whilst Marquez took a historic RC142 bike around, before ending the day on laps on their 2016 RC213V machines.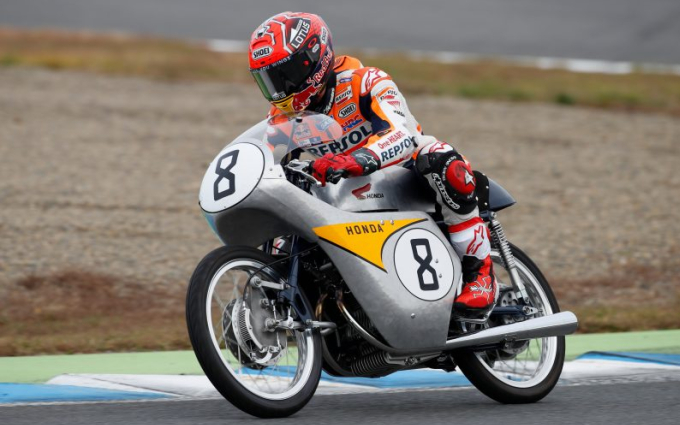 The duo were joined by two-time Formula One World Champion Fernando Alonso on a specially liveried RC213V for some parade laps. Pedrosa and Button then completed some laps in Honda NSX Concept-GT cars.
Marquez said it is always an honour to take part in the Honda Racing Thanks Day, with this year being a special one, celebrating his third MotoGP World Championship in four years.
"As always it has been an honour to be here at the Honda Racing Thanks Day, spending some relaxing time with people from the company," said Marquez.
"It's a nice event because it's good fun for the fans and for us, because we get the chance to speak and exchange opinions with riders and drivers from other motorsport categories. For someone who loves bikes as much as I do, it's a fantastic weekend! This year of course was even more special because we could once again celebrate the MotoGP title at the track where we won it. I look forward to coming back next year."]
Dani Pedrosa said that he is happy to be back in Japan and was relieved to see some sunshine with the weather not always playing its part in previous years. 
"I'm happy to be here in Japan again and to share some time with our Japanese fans who are always so special and affectionate, and bring us lots of presents and nice surprises," said Pedrosa.
"We like coming here for the Honda Racing Thanks Day because we have the chance to ride and drive many types of bikes and car, so it's great fun. This year we had fantastic weather too, so we could make the best of the experience."
Photos via Honda Racing Coperation