Lorenzo: Rossi relationship will improve after Ducati move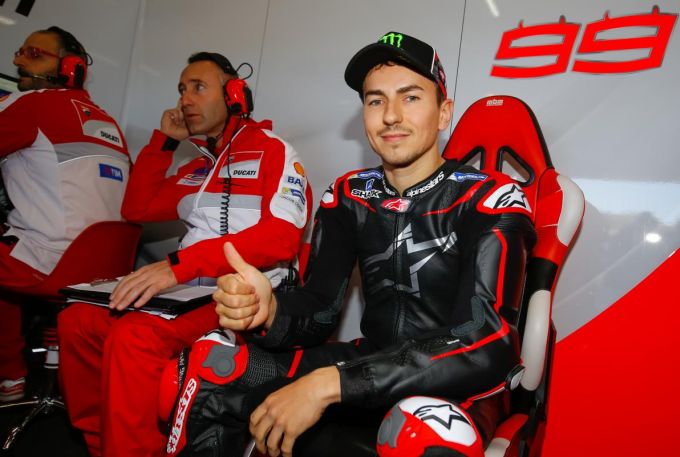 Jorge Lorenzo beleives that the tension between himself and Valentino Rossi will decrease with the Spaniard moving to Ducati for 2017.
The duo clashed on multiple occasions over two spells as team-mates between 2008-2010 and 2012-2016, with the most intense moments coming at the end of the 2015 MotoGP World Championship that saw Lorenzo win his third MotoGP World Championship. The ongoing fued between the two continued throughout 2016, most notibly when the pair got involved in a heated conversation after September's Misano Grand Prix, where Lorenzo accused Rossi of lacking respect towards other riders.
Despite Lorenzo and Rossi never seeing eye-to-eye through 2016, the Italian did reveal last week, that the pair shared a warm embrace in the Yamaha pit after the season finale in Valencia last month.
The two look to put their pasts behind them with Lorenzo moving to the Factory Ducati team for 2017. Rossi made the same move in 2011 after their first stint as team-mates, before returning to Yamaha after two very unsuccessful years with the Bologna factory in which he only claimed three podiums and failed to win a race.
The Spaniard said that tension between team-mates is to be expected when you have two top riders who are constantly fighting for the same goal every weekend.
"To have two roosters in the hen-house, keeping in mind that one of the goals is to do everything possible to beat the rider with the same bike as you, creates tension," the five-time World Champion told Motorsport.com.
"It's normal, be it with Valentino or with anyone else. When you race for another team the tension is much lower. It was the same when he left for Ducati. Back then, our relationship improved a lot competed to the previous two years. It will probably be the same now I've made the switch."
Lorenzo will be hoping he can build a relationship not too dissimilar to the one he now has with Dani Pedrosa. Lorenzo had previously had a rivalry with Dani Pedrosa throughout their 250cc days, although the Spaniard's moved on from their issues when the duo both made the move into MotoGP.
Photos via MotoGP.com