Meregalli: Viñales can be as fast as Lorenzo, with better character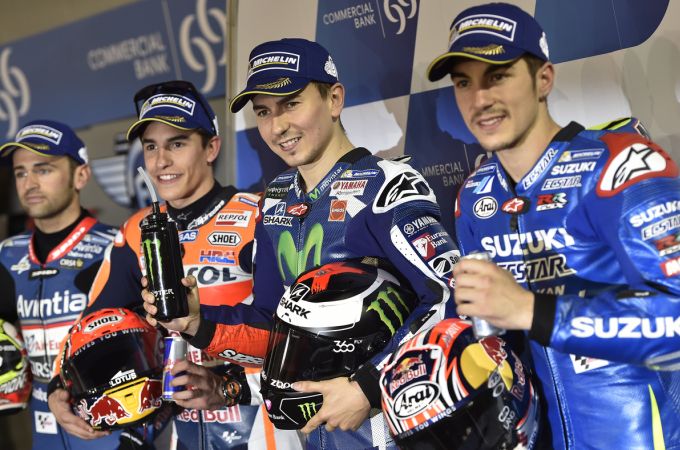 Yamaha MotoGP Team Manager Massimo Meregalli has said that new signing Maverick Viñales can be similar to Jorge Lorenzo in terms of speed, but better in terms of character. 
The Italian was speaking at the Monza Rally, where his current rider, Valentino Rossi, won a historic fifth rally, when he was asked about the young Spaniard. After impressing in his opening test on the Yamaha, topping the post-race test on his first time on the Yamaha, Viñales tested again a week later, in Sepang, excelling once again. Meregalli said he was impressed by Viñales' speed and calm approach in the box.
"His calm, sure way of providing feedback, and his speed impressed me," Meregalli told Italian website GPone.com.
"I knew he was fast, but I didn't expect it to be so immediate. Already at Valencia he impressed, and in the second test he again showed his competitiveness. He could well be like Jorge in terms of speed, but better in terms of character." 
Valentino Rossi has already said that he is expecting Viñales to be a tough team-mate and the murmurs out of both camps is the friendship that was formed between the two over the past 18 months, will quickly become a mutual respect, rather than a friendship once 2017 starts. Despite having issues within the team before, Meregalli doesn't anticipate there being trouble between the team-mates, but also feels as if Yamaha are ready to overcome it, should they face trouble.
"I'm not thinking about that right now, we were able to manage the last season without any issues, despite the deterioration in Vale and Jorge's relationship. I don't think we'll have any problems," he said.
Whilst happy with the start made by Viñales, Meregalli is hesitant to say that Lorenzo cannot win his first race for Ducati at the season opener in Qatar. The Desmosedici historically goes well in Losail and with Lorenzo's speed under the floodlights around the Qatari circuit well docuemnted, he fully appreciates how much of a threat Lorenzo poses in Round One, even if he beleives the reigning MotoGP World Champion Marc Marquez is still the man to beat.
"I hope he doesn't win, but it is he has a chance. Both the Ducati and Jorge have always been strong in Qatar," said Meregalli. "But Marc will still be the man to beat." 
Photos via MotoGP and Movistar Yamaha