Uccio: I don't believe Lorenzo is a title contender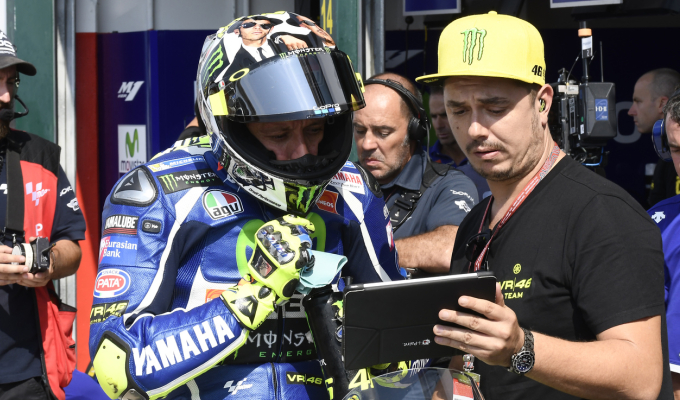 Alessio Salucci, the infamous best friend of nine-times World Champion Valentino Rossi, has said that he doesn't believe Jorge Lorenzo will be a serious title challenger in 2017.
Salucci, who's more commonly known as simply Uccio, was in action alongside his best friend this past weekend at the Monza Rally. Whilst Rossi was winning his fifth Monza Rally, Uccio suffered disappointment at Monza, failing to finish the race. 
Uccio – who was featured as one of the Blues Brothers on Rossi's 2016 Misano helmet – has been alongside Rossi nearly all of the Italian's MotoGP career and despite having a role in the VR46 Sky Moto3 team, his first priority remains working closely with Rossi, sitting in the Yamaha box, ensuring 'the Doctor' still has everything he needs to compete.
Whilst in Monza, Uccio was asked about how he thinks Jorge Lorenzo will fare on the Ducati next season. Lorenzo will of course be moving to Ducati after nine years with Yamaha in 2017. After a solid start in at the first official test of 2017 in Valencia, Uccio said that he beleives Lorenzo will be fast, but not a title challenger next year. 
"Lorenzo was fast on the Ducati," the Italian told GPOne.com. "I can see him doing well, and he may well have some good races, but I don't think that he will still be a contender for the title by the end of the season." 
Uccio said that whilst it's one thing to be fast in the tests, it's another to be fast in the race. Whilst saying he is convinced of the talent Lorenzo possess, he thinks it won't be easy moving to Ducati and stringing 18 races together.
"The race is a totally different thing with respect to tests and qualifying. I'm still convinced that he has great talent and he will not need much time," he said.
As for his 2017 team-mate, Uccio beleives there may end up being some issues between Rossi and Maverick Viñales, almost from the off. Rossi and Viñales got on well during the 2016 season, however with Viñales a serious threat to Rossi next season, Uccio beleives there may be a spot of trouble.
"I hope that there is respect between Maverick and Vale, although it seems unlikely," he said.
Photos via Movistar Yamaha