Valentino Rossi hits back at Lorenzo claims; It's war!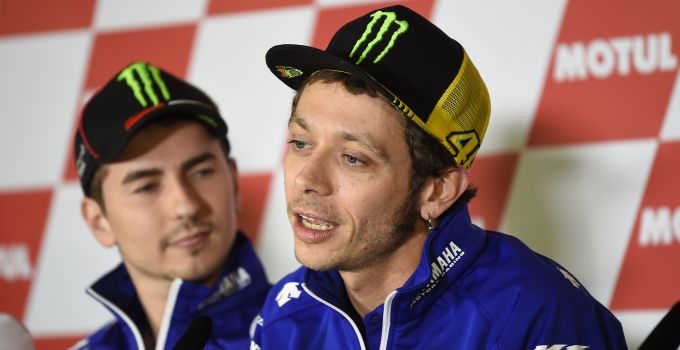 In what appears to be the biggest sign yet that the team mate relationship is back on the verge of breakdown, Valentino Rossi has hit back at Lorenzo's claims that only bad luck is standing in the way of him and the World Championship, with the Doctor claiming its disrespectful to him.
Both Valentino Rossi and Jorge Lorenzo have insisted that they're both more mature and are handling the pressures of a title rival in the same garage better than they did in 2010, but signs from Japan this weekend suggest that is all about to change. 
On Saturday, shortly after Lorenzo pipped Valentino Rossi to pole position, the Spaniard went onto Spanish TV and bemoaned the Yamaha policy of sharing data, saying it was helping Rossi more than the other way around. 
"It is true that at every race I see my team-mates telemetry, to see if there is anywhere I can improve. But ever since 125's I've always done everything myself, I've never used anyones telemetry, I always wanted to have my own settings," he told Movistar [via AS].
"But it's one thing that won't change or that I want to happen [a data sharing ban], because eventually it will all benefit Yamaha. But today, in the fight for the championship with Valentino, it's helping him more than me."
This prompted suggestions that the pair may push to have a wall erect in the middle of the garage, much like they did when they were team mates first time around in 2010.
Shortly after Sunday's Japanese Grand Prix, which saw Dani Pedrosa claim his fifth Grand Prix victory, and Rossi build his championship lead from 14 to 18 points, with just three races remaining, the Spaniard once again bemoaned bad luck costing him a shot at victory.
"So yes, I believe at this moment of the championship especially but in general, I am the fastest one this year because the bike, my speed, my concentration. But these are the circumstances at this moment and maybe it will change in the next rounds," he said after the race, blaming his front tyre for yesterdays result.
Today was the turn of Valentino Rossi to respond to Lorenzo. The Doctor has hit back at Lorenzo, saying that the suggestion of bad luck being the only obstacle in his own pursuit for another world title was disrespectful to him.  
"I think it's a bit disrespectful toward me to blame the results on luck," said the Italian. "I could find excuses as well when I finish behind him, at least 20 each time."
When asked why his tyre stood up to the track better than Lorenzo's, the Italian couldn't help himself. "It was a long and difficult race today. It was easy to make mistakes. One could say I was more clever, but let's just say I was luckier." 
Rossi on the whole has let Lorenzo do his own thing, and not responded in public to Lorenzo's words, but this latest reply could be the biggest sign yet that the relationship has seriously deteriorated, if it ever truly healed.
It could also been seen as a sign of confidence from Rossi, that he is now ready to reply to Lorenzo's comments, with, as Rossi admits himself, two of his favourite tracks coming within the next fortnight. 
"The next two tracks, Phillip Island and Sepang, are among my favourites. It would be nice to stay ahead of him. In Valencia, however, anything could happen, in the past it been one of the worst tracks for me, even though last year I started on pole and finished second."
Photo via Movistar Yamaha