Elated Marquez thought winning the title in Japan was "impossible"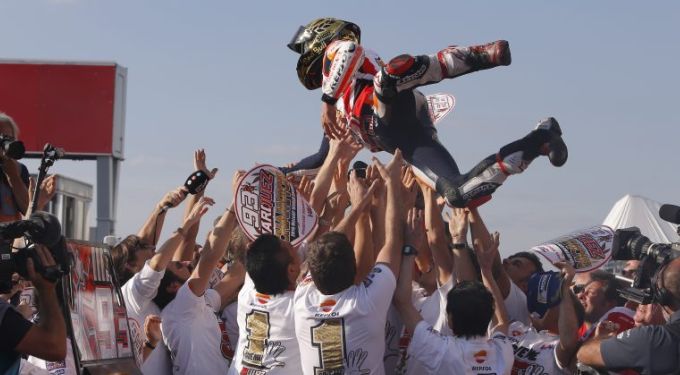 2016 MotoGP World Champion Marc Marquez thought that winning the World Championship in Japan would be "impossible", however, after seeing the Yamaha riders had crashed, he just made sure he finished the race to claim his fifth World Championship.
Coming into the weekend Marquez knew that if he won the race, and Valentino Rossi didn't score and Jorge Lorenzo failed to finish on the podium, then he would win his third MotoGP World Championship in his fourth season in the class. 
With Rossi crashing out early, Marquez looked like he would have to until Phillip Island next weekend to claim the World Championship. However, with five laps to go Lorenzo crashed out of second place, Marquez coasted home to claim the 2016 title. 
"It's incredible! Before the race I didn't expect to be Champion, and I said that here it would be impossible," said the newly crowned MotoGP World Champion.
"However, when I saw that Rossi was out of the race, I decided to push hard for the victory. I was riding my hardest, and when there were three laps to go, I read on my pit board that Lorenzo was also out; on that same lap, I made mistakes in four or five corners, as it was difficult to stay focused!"
The fact that Marquez won the World Championship at Motegi, the home of Honda, held extra significance to Marquez. The Honda RC213V was heavily criticised earlier in the season for it's lack of ride-ability, however in recent rounds, the Honda in one shape or form has won six of the last eight races. Marquez was quick to thank his team, whilst remembering his grandmother who passed away this year.
"I'm very happy because this title is very special considering some of the crashes I had last year, and also because it came at Motegi, Honda's home," he said. "Honda has worked so hard this year, and you could see the fruits of that effort also at this track, where we've struggled in the past.
"I myself also improved during the season; for instance, I learned how to better use the front Michelin tyre. It has been a demanding year, but a fantastic one. It's great for my team, and of course I don't want to forget my grandmother, who passed away this year and would be very happy with this World Championship."
Despite winning more races than anybody else this season, Marquez has demonstrated a much calmer and more mature approach to the races, settling for results that weren't there, and taking the points available. However, with the title now in the bag, Marquez offered an ominous approach for the final three races of the season.
"Now we can just enjoy it and go into the last three races with maybe a more 'Marc Marquez' style."
Photos via Repsol Honda