Marquez stops off in Indonesia ahead of Malaysian Grand Prix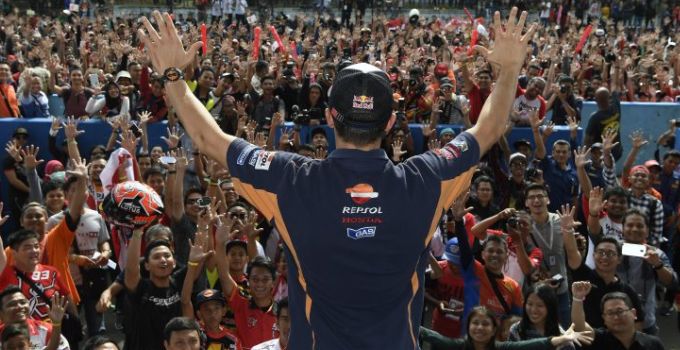 Newly crowned MotoGP World Champion Marc Marquez made a flying stop in the Indonesian captain of Jakarta ahead of this weekends Malaysian Grand Prix in Sepang.
Less than two weeks after being crowned the 2016 MotoGP World Champion Marquez returned to Jakarta where he launched his 2016 Honda RC213V World Championship winning machine. Marquez was greeted by thousands of fans back in February and they all turned out again to welcome the Spain on Tuesday.
After dinner and meeting with Honda management and sponsors, Marquez took 15 riders from the Astra Honda Racing School Indonesia, and rode a few laps with them at the Sentul Circuit. Teaching and passing on some tips to the young riders, Marquez then showed off the new Honda CBR250RR road machine, before a signing session with local fans.
Marquez said that it was a pleasure to return to Indonesia before saying he hopes to be returning for a MotoGP round in the not too distant future.
"I'm happy to be back here after our visit in February and to be able to do so after winning the title," said Marquez.
"It's a pleasure to have the chance to celebrate it with all of Honda's fans here, as they're incredibly enthusiastic and supportive. It's good to see that our sport is so loved and that we have so many, many followers. Today we met the students from Astra Honda Racing School at the Sentul track; I think Honda is doing a great job here, allowing young riders a chance to follow their dreams," he said.
"Maybe in the near future we'll race with some of them!
"I also enjoyed riding the new Honda CBR250RR as the crowd in the grandstands went crazy. I can't even imagine what it would be like racing here—it would be amazing! I'm just sorry that Dani is not here, I wish him the best, hope he comes back very soon."
Photos via Repsol Honda