Maverick Viñales gets first run on the Yamaha M1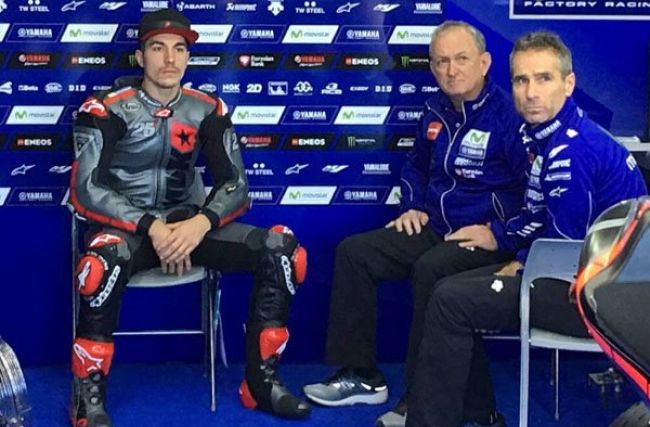 Maverick Viñales began his Yamaha career during the first day of testing and wasted little time in continuing to impress the entire MotoGP paddock. 
50 minutes into the first morning of the 2017 season, Maverick Viñales hoped onto his special liveried Yamaha M1. The bike will be extremely similar to the bike Jorge Lorenzo rode to victory during Sunday's Valencia Grand Prix, has been fitted with a new livery of grey, black and red with contract obligations stopping the Spaniard from using the normal Yamaha colours. 
Working with the crew that Jorge Lorenzo left behind of crew chief Ramon Forcada and coach Wilco Zeelenburg, Viñales made his bow during a five lap stint on a wingless Yamaha YZR-M1, Viñales managed a high 1:32 on his first stint as a Yamaha rider. 
After a short break and a few small adjustments, Viñales went back out on his M1 and quickly improved his lap-time down to a 1:31.913 which was less than two seconds off of his best qualifying time from Saturday's qualifying session. 
Whilst testing times mean nothing come the end of the season, the faces of experenced Yamaha engineers showed how impressed they were with Viñales' lap times. The 21-year-old cannot speak to media until the new year due to still being contracted to the Suzuki factory.