Viñales shines whilst continuing to work on electronics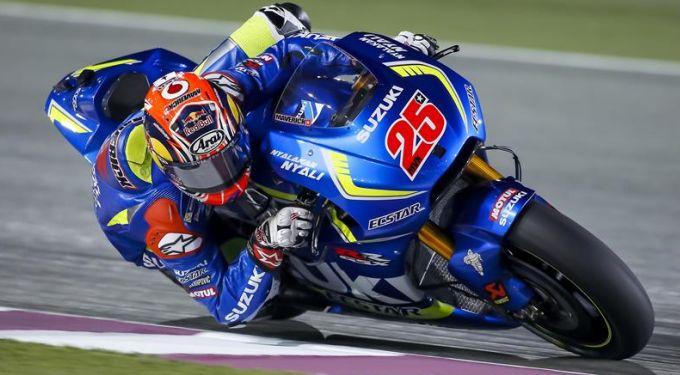 Spanish sensation Maverick Viñales stunned the field with another incredible performance on his way to finishing the first day of the final MotoGP pre-season test of 2016 second fastest overall. 
The 21-year-old was coming into Qatar on the back of topping the timing sheets through the second pre-season test in Phillip Island just over two weeks ago and he continued that speed to the Losail International Circuit. 
Viñales ending the first evening of testing second fastest overall, just over four tenths of a second off the best time of the day set by reigning MotoGP World Champion Jorge Lorenzo.
The Spaniard got through 44 laps aboard his 2016, completing his best lap, a 1:55.880 on his 28th lap of the day. 
Viñales and his Suzuki team didn't try many new parts out during the opening evening, instead working on finding a setting and working with both 2015 and 2016 chassis'. 
The highly discussed seamless shift gearbox wasn't fitted completely to the factory GSX-RR's, with only seamless upshift on the bikes today.
Along with working on both chassis', the Spaniard also worked on the new electronics ECU, made mandator for all teams in 2016.
"I'm happy with the work we could do today and for the result of this first day," said Viñales.
"We didn't focus on testing so many things but more to find consistency in the improvement of the setting and the electronics.
"We have tested both the 2015 and 2016 chassis and the results are positive. Although my best lap was done with the old chassis, my feeling is that with the new one we are already very close and this leaves us a lot of room for improvement."
Despite times being the best part of a second off of last year's qualifying times, Viñales' best lap time was much faster than the best time he managed in his MotoGP debut race 12 months ago.
"We made many laps and did a huge amount of work, the times here are getting very, very fast these days; for example, my lap time is already almost one second faster than last year's race, therefore we really need to keep on working," he said.
"I feel very confident with the front tyre, while we still need to work on the rear as we couldn't find the perfect grip yet, so we can improve further."
Viñales will be hoping to go one step further tomorrow night, when he is expected to be given the full up and down seamless shift gearbox.
Photos via Suzuki-Racing.com