Maverick Viñales flies during first day of testing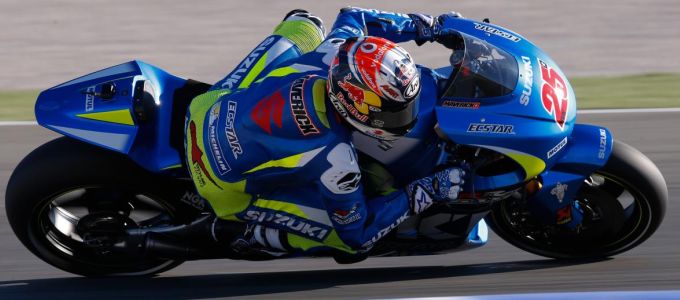 2015 MotoGP Rookie of the Year Maverick Viñales got off to a flying start during his first taste of Michelin tyres during the first day of MotoGP testing in Valencia.
Viñales and his Suzuki team decided to use the test as time to focus on just the new Michelin tyres that all teams will be forced to run in 2016, by fitting them to the 2015 GSX-RR, focusing on the spec ECU at a later date. The Suzuki team are looking to find a base setting with the new tyres before introducing the 2016 GSX-RR – fully equipped with a fully seamless gearbox – at the first test in 2016 in Malaysia.
Viñales ended the first day with an extremely impressive fourth place finish, after a best lap time of a 1.31.720, just 0.168 off the best time of the day set by Marc Marquez. Despite a small front end crash, it was a day of positives for the 20-year-old.
"Today we have focused mainly in finding the feeling with the new tyres and my judgement so far is very positive and I feel comfortable with them," said the Spaniard.
"I could have been more effective in the braking as the rear is so stable, allowing me to be effective in the entrance of the corner and also in corner-speed," he added.
"The character of these tyres is different from the previous ones, we need to better understand how they react and the crash I had today is proof of this: I suddenly lost the front without any warning; my feeling is that they have much-more grip at the rear but still some uncertainty about the front. This will affect my riding style because I will probably have to load the front more to keep it more stable.
"In the afternoon we started to introduce some little adaptations in the setup and the electronics to see the reactions and to prepare tomorrow's job. But I think we can be satisfied with today, we did a good job with a good fast lap-time, but also the consistency is very good, when the tyres get worn I still feel I can trust them."
Viñales will be back in action tomorrow when testing recommences at 10am local time (9am GMT) for the final day of official MotoGP action in 2015.
Photos via MotoGP.com