Jorge Lorenzo makes Ducati bow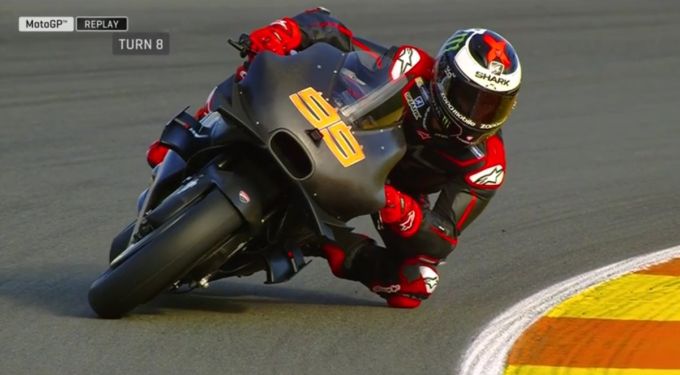 The MotoGP pitlane opened at 10:00, at 10:01 the Jorge Lorenzo era at Ducati began.
The five-time World Champion was on an all black bike fitted with two devil horned red 9's and black and silver Alpinestars leathers due to contract obligations was the first rider out on track and started his new venture on a chilly morning in Valencia. 
Before heading out, Lorenzo spoke to Ducati boss Gigi Dall'Igna, new crew chief Cristian Gabbarini and test rider and close friend Casey Stoner as he prepared for his opening laps on the Desmosedici.  
https://twitter.com/GP_Xtra/status/798450178541977601
Just one minute into '2017', Lorenzo emerged through a crowd of photographers and set off from the Ducati box on a winged edition GP16 to help him adjust to the Desmosedici and to help him get a base idea of what to expect before introducing the 2017 bike to the Spaniard.  
Lorenzo was out for just five laps completing a 1:37.263 and he just bed himself in on the Desmosedici. After his first stint, Lorenzo returned to the pit and after a huge conference in the Ducati garage, he spoke again with Gabbarini and Stoner, before heading back on for a second stint on the Ducati.
With track conditions warming up, Lorenzo started to find some confidence in the Ducati and completed a further nine laps, managing to get down to a 1:32.729 and less than three seconds off his record breaking pole position lap time from Sunday's race on the Yamaha M1. 
A picture can tell a thousand words… #MotoGP #2017StartsNow #JL99 pic.twitter.com/Yua4PPuXpp

— GPxtra (@GP_Xtra) November 15, 2016
Contract obligations mean that Lorenzo cannot speak to the media about his thoughts and feelings on the Ducati, however, it was all smiles in the Ducati pit box every time Lorenzo spoke.