Lorenzo begins title defence with solid first day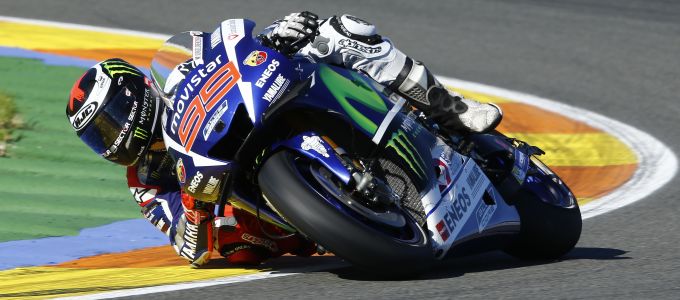 2015 MotoGP World Champion Jorge Lorenzo has began his defence of his fifth World Championship in solid fashion, ending the first day of testing in fifth position.
Lorenzo used the first day of the post season to test the new Michelin tyres, as well as the new electronics being introduced for 2016. Lorenzo spent the majority of the day on the on his 2015 M1 with the new tyres on it, before a run later in the day on the 2016 bike, fully equipped with the new software.
The Spaniard ended the day with a best time of 1.31.767 which was two tenths behind Marquez' fast time of the day. As a point of reference, his lap record from qualifying on Saturday afternoon was a 1.30 flat, meaning his time today was nearly two seconds slower.
The World Champion admitted to still being understandably elated with Sunday's outcome, despite needing to get back to work this morning.
"It is fantastic to ride around as the World Champion. It's an unbelievable feeling, I couldn't be happier," said the 28-year-old.
"The situation during the whole championship and especially the last race couldn't have been more emotional, but I still have to test the Michelin tyres and I can't relax and enjoy it completely because I need the tension to not make a mistake and crash. We started the test with completely the same bike as the race, just with the Michelin tyres.
"At the beginning it was difficult to get good lap times, but by changing the setting of the bike little by little, we improved the feeling of the front quite a bit. We didn't solve the problem completely. I now have a feeling that I think everybody has; at the entry of the corner we lose a bit of stability and also when reaching the maximum lean with throttle the front can close suddenly if you push so much.
"It's the opposite for the rear tyre, it's fantastic! It's unbelievably grippy and it gives you a very good feeling. We need to work a bit more on the front."
He went on to explain in more detail about the issues with the front tyres and lack of grip.
"There has been some crashes also with braking, with no throttle, like the one of Espargaro in the first corner," he said. "Usually the crashes are in the middle of the corner when you are trying to roll at maximum angle with throttle, but the grip of the rear tyre is so good that the front at maximum lean doesn't support the grip of the rear.
"So you need to lean a little bit less or be less time in the angle to try to avoid the crashing. Almost all the day we used the old electronics; we have made the last run with the new bike and new electronics, but mostly we concentrated on understanding the tyres and changing the setting to improve the feeling on the front."
Photos via Movistar Yamaha