Iannone: I don't know if Lorenzo is ready for the Ducati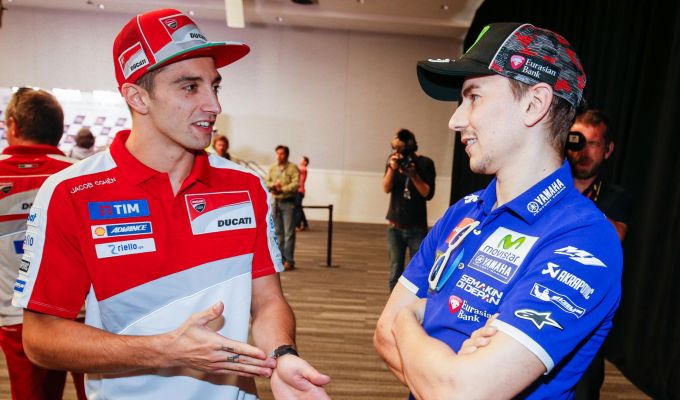 Andrea Iannone has issued a warning to Jorge Lorenzo regarding the Ducati Desmosedici, saying he doesn't know if the Spaniard is ready for the Ducati.
Lorenzo will make his highly anticipated move to the factory Ducati team for the 2017, with his first taste of the Desmosedici coming in just under a months time in the post-race test at Valencia. Lorenzo will partner Andrea Dovizioso at Ducati next season, forcing Andrea Iannone out of the door.
The Italian ended up signing with the factory Suzuki team, replacing Yamaha bound Maverick Viñales, after saying the made him feel valued and important. 
Many have questioned whether Lorenzo's smooth riding style will work well with the less than perfect Ducati. Lorenzo's biggest strength with the Yamaha has been his ability to carry corner speed, trusting the front end of his M1. With the Ducati historically having an unstable front end, many have questioned how Lorenzo would fare.
The man he is replacing in the factory Ducati team, Andrea Iannone has said that Lorenzo can "forget about" carrying the same level of corner speed when he steps aboard the Desmosedici.
"I don't know if he is ready," 'the Maniac' told Italian website GPone.com. "His strength is his speed through the turns, but with the Desmosedici you can forget about that. If you try, you crash, particularly with these Michelins."
Iannone went on to talk about how the Ducati doesn't slide like the rear of the Yamaha does. Whilst the added drive helps the bike coming out of corners, it puts extra stress on the front of the bike. Iannone said that he had some suggestions on how to fix the reoccurring issue, but hinted that Ducati weren't willing to hear what he had to offer.
"Our advantage is that the Desmosedici has little torque at low speed so when you lift it up and twist the throttle it doesn't wheelie and the rear tyre doesn't slide, unlike the Yamaha," he said.
"The problem is that you need someone in front towing the bike to make it turn. Have you seen the Honda? It's really quick in the changes of direction. Ducati has been battling this problem for years but it's not yet resolved. I have a few ideas but I'm no engineers, the engineers need to trust and listen to a rider."