Iannone expecting Lorenzo to join Ducati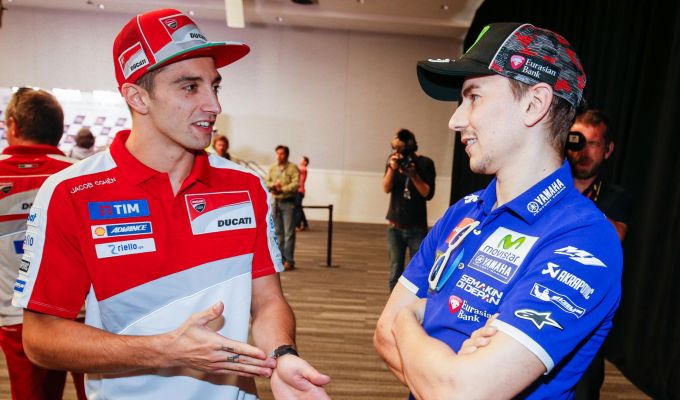 Factory Ducati rider Andrea Iannone has said he fully expects Jorge Lorenzo to join him at Ducati next season. 
Reports last week suggested Lorenzo was very close to signing a deal to partner Iannone in the Factory Ducati garage next season. Lorenzo's manager Albert Valera flew over from Europe, with speculation to finalise a deal, with rumours of a verbal agreement already in place.
When asked about his future on Thursday, Lorenzo refused to deny the rumours, instead just reiterating his comments from Argentina that nothing has been signed.
If, and when Lorenzo signs his contract with Ducati, it is widely expected that he will partner Andrea Iannone. Iannone finished ahead of Dovizioso in the World Championship last season. Despite a tough start to the 2016 season – which included taking both himself and his team-mate out of a net second and third position in the final corner in Argentina – Iannone is widely expected to be retained for 2017.
Iannone has said that he doesn't know if anything has been signed between Ducati and Lorenzo, but that he fully expects the Spaniard to be a Factory Ducati rider next season.
"For me, Jorge will come to Ducati. I don't know whether he has signed or not, but to me, he is coming to Ducati," the Italian said whilst speaking to Spanish newspaper Marca.
If he does end up partnering Lorenzo next season, Iannone said he would be very happy as his riding style would benefit from any changes Lorenzo would bring, something that he doesn't currently benefit from with Dovizioso.
"If he comes and I'm at Ducati with him, I think it would be a very good team because we have very similar riding styles, something that has never happened with Dovizioso. Andrea has a very different style to mine and, therefore, often to get a good set-up or to pursue an opening we take different paths," explained 'the Maniac'.
"Instead, to have a person who rides similar to you, it would definitely help you a lot. He is a stronger rider than I am. He has done better than me over the years, so maybe I can learn some things from him.
"So this is very positive for me. But all this is 'yes,' 'if,' 'if,' we don't know. If so, I'll be happy."
Lorenzo is expected to make a decision on his future at his home round of Jerez in two weeks time. 
Photos via MotoGP and Movistar Yamaha