Iannone apologetic after torpedo move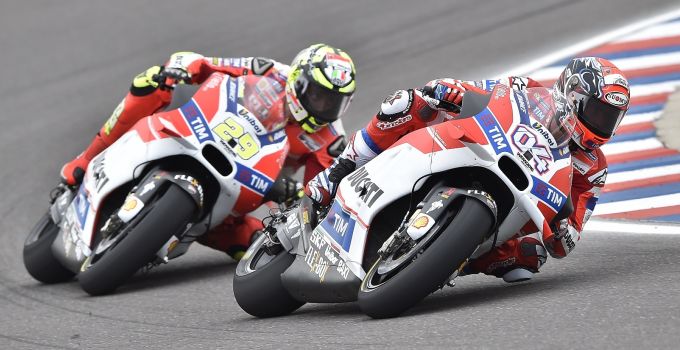 Ducati's Andrea Iannone was apologetic after knocking his factory Ducati team-mate, Andrea Dovizioso, out of the Argentine Grand Prix on the penultimate corner of the race.
In Qatar Iannone crashed out of the lead whilst battling for the lead with his team-mate, he lost the front end and nearly took his Dovizioso out. In Argentina Iannone suffered a similar fate but this time he also took his team-mate with him.
Heading into the final two corners of the twenty lap race, Iannone was in third place, hot on the heels of his Ducati team-mate who'd overtaken him on turn five of the final lap. Heading into the penultimate right hander Iannone attempted an ambitions move up the inside if Dovizioso, only to lose the front end of his Desmosedici and take both Ducat's out of the podium. It was carbon copy of Pedrosa's infamous failed pass on Nicky Hayden back in 2006, with the same results.
Dovizioso did manage to pick his bike up and push it across the line, but could only take home eleventh, claiming sixteen less points than he would've had he finished second.
"When I arrived at the penultimate corner, I lost the front and brought down Dovizioso in the crash," explained the Italian.
"Unfortunately that's the way it went and I am really sorry for my team, for Andrea and for everyone in Ducati because for sure a podium today with both Ducati Team riders would have been an exceptional result."
I don't think Iannone can have any defence for this move https://t.co/UKVF5lQZ2o

— GPxtra (@GP_Xtra) April 3, 2016
The final corner collision wasn't Iannone's only of the race. The Italian had also attempted an aggressive pass on the inside of turn one with his rear tyre bouncing on the bumps, smashing into the side of Dani Pedrosa.
Despite that, Iannone felt that he had good pace, especially after he changed onto his second bike after the mandatory pit stops due to tyre concerns. 
"Even though I didn't manage to get a good start, I was doing a good race: for sure I could have been quicker in the early stages, but when I changed bikes I started again at a better pace than the riders ahead of me, and I managed to pass Rossi two or three times, until Andrea passed us again on the last lap."
Photos via Ducati Corse