Jarvis beleives Valentino Rossi could race on beyond 2018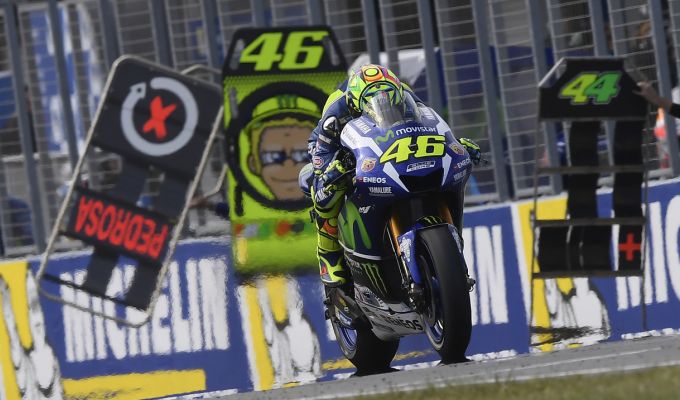 Yamaha MotoGP Managing Director Lin Jarvis, has given Valentino Rossi fans around the world hope that the Doctor may continue in the sport beyond his current deal, which is due to run until the end of the 2018 season.
Rossi's current deal was signed at the season opener in Qatar and will expire with the Italian 39-year-old. Whilst he hasn't won a MotoGP World Championship since 2009, second place finishes in 2014 and 2015 and with Rossi in the box seat to finish runner up once again this season, it's evident Rossi still has the pace to challenge at the front of the grid.
Whilst it's far from confirmed that Rossi will stay on beyond his current deal, Jarvis said that Rossi goes into every campaign believing he can win the illusive tenth MotoGP World Championship, rather than thinking it's his final season in the sport.
"At the moment, I believe he is," Jarvis told Italian newspaper Gazzetta Dello Sport.
"He doesn't see the next two years as the final ones, but he will figure it out when the time comes. He is a leader, he starts every season with the belief he can be the champion. As for myself, I have no doubts about that."
Rossi's influence and power in Yamaha is obvious for all to see, something that really upset the dynamic between Rossi and his current team-mate Jorge Lorenzo. Rossi and Lorenzo never saw eye-to-eye from the time Lorenzo arrived in the Yamaha team to partner Valentino Rossi, as a two-time 250cc World Champion in 2008. 
With Lorenzo leaving Yamaha at the end of the season, Lorenzo will be replaced by Maverick Viñales. The young Spaniard has taken a huge step forward in 2016 and claimed his first MotoGP at Silverstone. Whilst Viñales' current crew chief, Jose Manuel Cazeaux, doesn't envisage a strong relationship between the duo, Jarvis remains hopeful the two will have a strong relationship, whilst admitting the dynamic will change if Viñales starts beating Rossi.
"I hope it will be easier. Jorge arrived as a promising young rider while Vale was the king," he said.
"Nowadays there is a big age difference between Maverick and Valentino, but I know that from the moment Viñales closes the gap on Rossi, the dynamics will change."
Photos via Movistar Yamaha