Rossi: Lorenzo doesn't have the 'balls' for Ducati move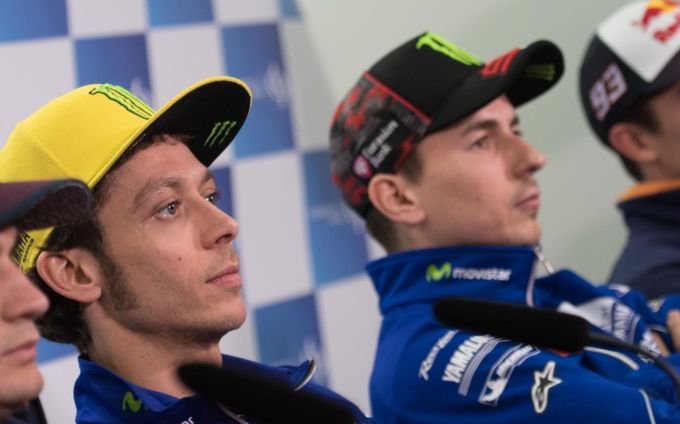 The rivalry between Movistar Yamaha factory riders Jorge Lorenzo and Valentino Rossi intensified during an edgy Saturday evening at the opening Grand Prix of 2016, with the Doctor claiming Lorenzo doesn't have the 'balls' to move to Ducati. 
The duo clashed on track during free-practice four when Rossi took objection firstly to Lorenzo riding slowly on track and then his reaction to the whole event, whilst Lorenzo was left bemused at why his team-mate was so upset claiming he had nowhere to go. 
The day started with news of a new two-year contract renewal for the Italian, taking his new deal up to the end of the 2018 season. This prompted the Italian press to begin speculating that the Spaniard could soon be parting ways with Yamaha and taking the well trodden path to Ducati. 
It was a move Rossi of course made in 2011 when the rivalry between the two was equally as fragile as it was currently is, before two disastrous seasons with the Bologna manufacture. Because of the difficulties he faced, Rossi said he beleives Lorenzo will stay at Yamaha, not possessing the 'balls' to take the plunge and join Ducati. 
"To sign with Ducati you need to be brave, you need big balls," said the 37-year-old. "So because of this, I think Lorenzo stays with Yamaha."
Whilst undoubtedly an attempt to provoke his Lorenzo, the Spaniard explained he is in a much better position whilst negotiating and evaluating new contracts that his team-mate. Lorenzo even went as far as to say that Rossi was fortunate to get his new contract with Yamaha, as nobody else wanted him.
"I'm in a different situation from Valentino," the Spaniard told Spanish broadcaster Movistar. "I am the defending champion and with my past [not riding for any other teams], I have more options and can wait."
Lorenzo also attempted to get another one up over his team-mate, by contradicting the claim from Yamaha boss Lin Jarvis that both riders were offered contracts on Thursday, claiming he's had an offer on the table for a week now. 
"I have had an offer [from Yamaha] on the table for a week, which is what I wanted" he said. "It is a very good offer; better than my current contract. It's a big deal but I have decided to wait."
On the track Lorenzo claimed his first pole position at the Losail International Circuit, whilst Valentino Rossi will start tomorrow's opening MotoGP from the middle of the second row in fifth position. 
Photos via Movistar Yamaha