Viñales' potential leaves Rossi "quite worried"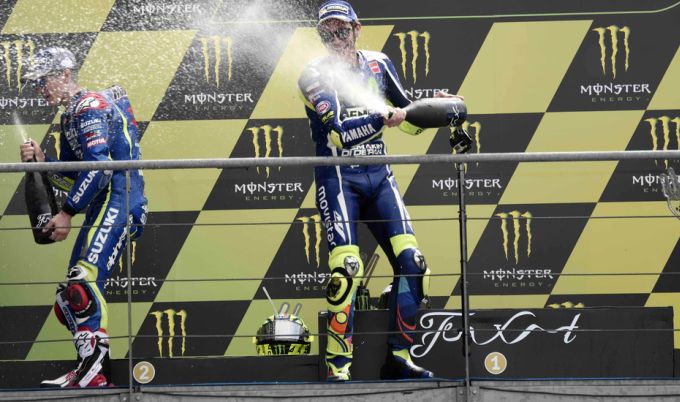 Nine-times MotoGP World Champion Valentino Rossi has said he is "quite worried" about the speed of his new team-mate for 2017 and 2018, Maverick Viñales. 
The Spaniard's highly anticipated move to Yamaha was finally confirmed early Thursday morning, less than a week after Viñales officially signed his deal with Yamaha last weekend in Italy. 
Viñales has seen his stock sky-rocket in the past six months. Impressive testing times and a strong start to the season – which also saw him claim his maiden MotoGP podium last time out in Le Mans – made the 21-year-old the man Yamaha chose to replace outgoing World Champion Jorge Lorenzo, with the Spaniard partnering Rossi in the factory Yamaha team. 
Viñales has previously said that he thinks he can learn "everything" from Rossi. Whilst the Italian will undoubtedly be happy to help nurture the next Yamaha talent, the Doctor did confess that Viñales' potential worries him.
"On one hand, I'm quite worried because he is another very strong team-mate," said the Italian in an interview with Sky Sports Italy.
"He is 21, he has a huge margin to improve and he's already shown himself to be one of the strongest. On the other hand I'm content, because we will remain a very strong team. I am older and have more experience, whilst he is younger and has to learn.
"We are both very strong, so Yamaha has done a good job," he explained.
"I feel a bit sorry for Suzuki and for Brivio, because Viñales is a truly great rider, but for Yamaha it is very positive."
The other rider linked to the second seat at Yamaha was that of Dani Pedrosa. The Spaniard has ridden for Honda his entire eleven year MotoGP career. Despite numerous links in both the Spanish and British press, Pedrosa eventually signed a two-year extension with the Repsol Honda team.
When asked the prospect of having Pedrosa as a team-mate, the Italian said he thinks that Pedrosa would've caused more issues immediately. 
"Pedrosa is also very, very strong. Maybe at the moment he is stronger," said Rossi. "But Pedrosa has already shown his potential, while Viñales hasn't shown his yet."
Photos via Movistar Yamaha and MotoGP.com