Nakamoto and Honda focusing on softer engine for 2016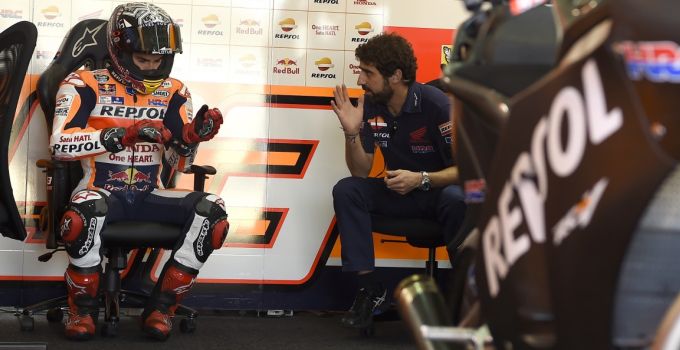 HRC Vice President Shuhei Nakamoto has insisted that his engineers are working hard to soften the power delivery given out from their engines, as Honda look to reclaim the MotoGP World Championship in 2016.
Nakamoto, who is currently camping in South America, as he oversees Honda's assault on the Dakar Rally has pinpointed the aggressive engine from last season's Honda RC213V as a pivotal area to improve if Honda want to reclaim the constructors crown in 2016. 
All Honda riders from Marquez to Crutchlow commented on how hard the bike was to ride, due to the overly aggressive nature of the 2015 bike. This in turn made the bike extremely hard to set up, and contributed to a number of the crashes suffered by all Honda riders, and Marquez in particular. 
"We're focused on making a less aggressive bike," he told Spanish newspaper Marca. "We are trying several things, but for some reason we are not getting to find a bike better than last year. The engineers are examining why and I hope that we find a solution before the start of the first race. We must improve."
With a softer bike, Nakamoto and HRC will be hoping that Marquez can put a difficult 2015 behind him and move forward as he himself looks to win back the title he surrendered last year. Despite not winning the World Championship, Nakamoto feels Marquez can take a lot of lessons from 2015 moving forward.
"Marc could not fight for the championship last year, but from the point of view of the speed, he's still number one," he said.
"He had six falls, if he had managed to finish them, he would have been champion. Marc always tries to win every race; but he now knows that winning the championship is much more important. Marc is a very young guy, he needs more experience and I think that the results of last year have helped him understand this."
One of Marquez' six crashes in 2015 was the infamous clash in Sepang with Valentino Rossi. With Rossi attempting to have his penalty overturned, Honda were ready to release the telemetry for their part in the debate. Just before they did, the FIM and Dorna asked HRC not to, something which HRC have obliged in doing, although Nakamoto insists the data is ready and waiting should the FIM and Dorna change their mind. 
"We have the data," he said. "The FIM and Dorna asked us not to publicise it. We respect their decision, but we are hoping that we can get their authority to publish it, or we can close this option for good. I don't know, it's out of our hands."
Nakamoto does believe that the case has been dragged out by Rossi questioning why the data wasn't released, with a lot of his fans prolonging the issue.
"I think that 50 percent of fans are fans of MotoGP are Valentino's and they believe what he says. This is something that Honda can't control," he explains. "History shows that Valentino's attacked his opponents throughout his career, such as Gibernau and Stoner. This time it's Marc. But Marc is a rider who admires Valentino.
"In Valencia I was not happy, but that's not changed the fact Valentino is his hero. The two have had a holiday, I hope they get more rest and in the new season they can have a fair fight on the track, and not begin to wrestle in the press rom or in the pits.
"I never want to see these things again."
Many riders and fans (including Cal Crutchlow) are tipping Dani Pedrosa to be the man to beat in 2016. Pedrosa seems to be more at ease and looking better than ever on his Honda. That combined with the new Michelin tyres which appear to favour the much lighter and softer on the front Pedrosa means has as good a shot at a title in 2016, than he's ever had. 
"In the second part of the year, he was very strong, with two victories – the one in Motegi under very difficult conditions," said Nakamoto. "Dani decided to have surgery in the middle of the season and I think it was a good decision for his future. Some fans criticise him, but Dani is a fast rider."
Despite the constant speculation that Pedrosa finds himself in the hot-seat and may lose his seat in the Repsol Honda team, Nakamoto appears as supportive as ever to his now veteran rider, with him looking like he's ready to offer the 30 year-old another contract this year. 
"Marc and Dani, is our rider lineup for 2016; it's the best combination in my opinion. As the riders contracts end this year we have to talk about renewals. We haven't done it yet, but I think that we can announce it mid-season," he revealed.
"The Michelin tires are equal for everyone and if we look at the times of the rider, they're similar to those done on ​​Bridgestone's. The tyre characteristics are different and not only the riders, but also the engineers need to understand their qualities."
If Pedrosa somehow does get over-looked, could Honda look in house as a new rider, with fellow Spaniard Fernando Alonso impressing during his first taste of a MotoGP machine during the Honda Fans Day at Motegi in December. 
"In mid-December, at the Honda Fans Day in Motegi, Fernando Alonso asked us to test a MotoGP bike," Nakamoto said. "He did and asked for telemetry. I showed it, saw the speed, braking points… Then I understood why he's a fast driver in Formula 1. He joked asking about one mega-contract and my answer was: 'Sorry, too expensive'.
"He still has two years left on his contract with the F1 team, Marc and Dani are with us… I'm happy."
Photos via Honda Racing Corporation