Valentino Rossi on hand for promo work in Indonesia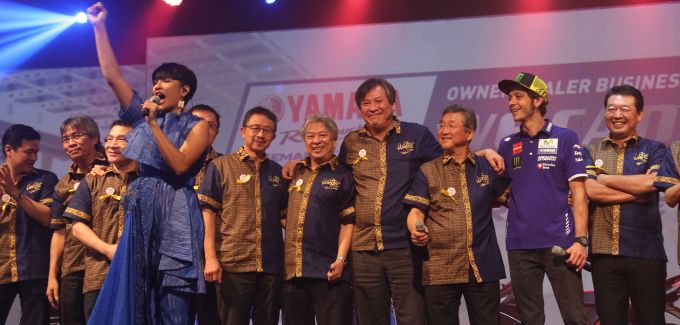 Nine-times MotoGP World Champion Valentino Rossi is busy doing promotional work in Bali, Indonesia before heading to Malaysia for the opening test of 2016 next week. 
The Doctor is currently in Bali as he has helped Yamaha unveil three new motorcycles today. The Fino 125cc, the Aerox 125cc and the Xabre 150cc. The South-East Asia market is a huge one for all manufacturers and Rossi was showing guests and journalists alike the new motorcycles. 
The Italian was a special guest of the Yamaha Indonesia Motor Manufacturer (YIMM) at the event that was hosted by Yoshihiro Hidaka, Executive Officer of Yamaha Motor Company, where he then went on to pose for the new YIMM TV ads. 
This is Rossi's third trip to Indoneisa, and second to Bali and his popularity was as large as ever with fans going crazy for just a glimpse of the former World Champion in person. Indonesia is hoping to find itself back on the MotoGP calendar in 2017 with the Sentul circuit, showing how important events such as these are to both Yamaha and the country itself. 
"It's my third time in Indonesia, the second time in Bali and coming here always delivers surprises and emotions," said the 36-year-old.
"Not only Bali is a beautiful place, where I'd love to spend some time off, but I am always amazed by the welcome Indonesian fans are capable of. Already at the terminal, I met hundreds of people waiting for me and they escorted us on the way to the hotel. Last time I was here was in 2013 and the passion for MotoGP has definitely not decreased!
"Indeed it seems the number of fans doubles each year. This is definitely a place MotoGP should come to in the future, as a special thanks to all the fans who followed and watched MotoGP only on TV so far. From a business point of view, Indonesia is a market that is pretty distant from the ones we are used to, in Europe.
"The sales volume makes Indonesia the leading market for Yamaha, so we have more than one reason to pay a tribute to our friends here by visiting them every time our schedule allows it.
"Most of these fans will also come to Sepang, in one week, to attend the forthcoming MotoGP test. I look forward to seeing them in Malaysia and pay them back with a strong start to the official season."
Rossi will now stay in Indonesia for a few more days before making the short trip north to Malaysia as he prepares for the first official MotoGP test of the 2016 season, which is due to get underway next week from the Sepang International Circuit. 
Selamat siang @YamahaIndonesia. Bali welcomes @ValeYellow46! pic.twitter.com/PHtEdrPcWc

— Yamaha MotoGP (@YamahaMotoGP) January 26, 2016
Photos via Movistar Yamaha