Lorenzo admits to choosing the wrong front tyre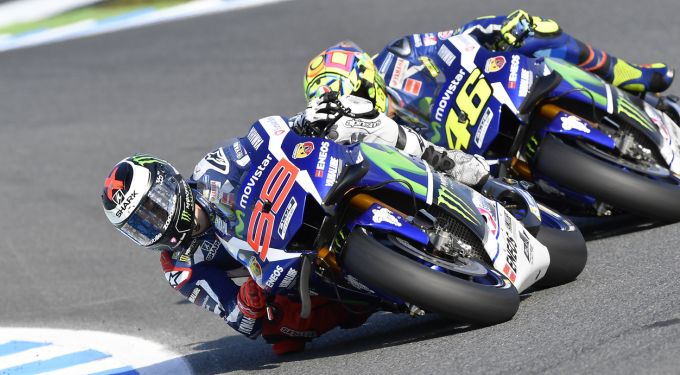 Jorge Lorenzo said that choosing the wrong front tyre ultimately cost him any chance of challenging Marc Marquez during the Japanese Grand Prix at Motegi.
The Spaniard started from the outside of the front row and after a quick start, it quickly became apparent to Lorenzo that he had the wrong front tyre. After seeing his team-mate, Valentino Rossi, the man he is chasing for second in the World Championship crash out in the early stages of the race, Lorenzo knew that he was the only man who could prevent Marquez from winning the MotoGP World Championship, so he tried to keep pace with his compatriot.
However, as the race went on, the Spaniard's front tyre started to vibrate and tuck regularly, leaving the end result of a crash for Lorenzo seemingly inevitable. Sure enough, with five laps to go, the Spaniard ended up losing the front end of his Yamaha M1, leaving Marquez to take the 2016 MotoGP World Championship. 
"I'm very disappointed, because I made a mistake," said the 29-year-old who has failed to retain the MotoGP World Championship on all three occasions now.
"I tried to push too much when the bike was not working well with the tyres. In Aragón we made a good decision with the tyres and this time it was the opposite. We chose the wrong front tyre, with the soft I think I would have made a better race, because my front tyre on the first laps was vibrating and closing. I didn't have a good feeling, that's why I couldn't keep up with the pace of Marquez.
"Finally, because Dovizioso was coming, I pushed more than before in that corner and the front tyre didn't give me any support or feedback and I crashed. It's a pity, because I think we had the potential to fight for the victory with the right front tyre, but it was impossible today and we lost a great opportunity to be second in the championship.
Despite the hardship of seeing his MotoGP World Championship crown go the way of Marquez, he was magnanimous in defeat, congratulating Marquez for his consistency throughout the season.
"I want to congratulate Marquez because he didn't have an advantage from his bike this year and he was the most consistent rider, so he deserves this championship."
Photos via Movistar Yamaha