Lorenzo beleives rear tyre cost him shot at Jerez victory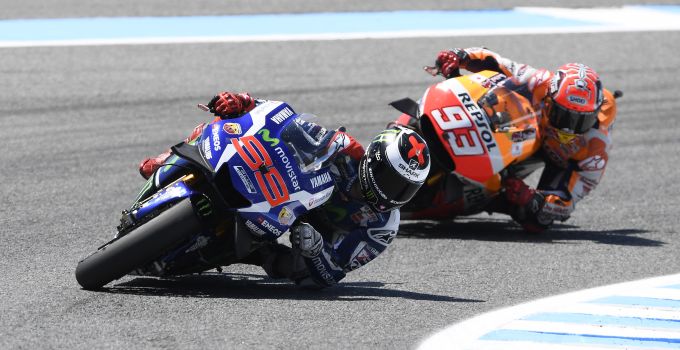 Jorge Lorenzo feels as though he could've won Sunday's MotoGP race in Jerez had he not been plagued with rear tyre issues.
The World Champion had started the race from second position and was all over the rear tyre of his team-mate for the early stages of the race, even overtaking Valentino Rossi on one corner before losing it on the next, however after seven laps Lorenzo faced issues with his rear Michelin.
Lorenzo, Rossi and Marc Marquez all elected for the medium compound rear tyre, however Lorenzo said that he couldn't accelerate properly as every time he went through the gears coming onto the home straight, the rear tyre was just spinning. 
"The only thing is that we could have won the race without the problem on the front-straight. Going through the gears the bike didn't stop spinning and I couldn't fully open the throttle," said the Spaniard.
"Just when I started recovering metres on Rossi this problem started, so I had to slow down a lot and I didn't have the chance to fight with him for the victory, but sometimes this happens. Now Michelin have to find out what is going on. They improved the front tyre and now I am sure they'll work on the rear to solve these kinds of issues."
Lorenzo saying that the rear tyre was spinning up and felt like he was using a wet tyre.

— GPxtra (@GP_Xtra) April 24, 2016
Despite not getting the victory himself, Lorenzo said that he is happy that Yamaha claimed the 1-2 and that he managed to close four points on Marquez in the World Championship.
"The positive thing is that the Yamaha's went better and also 20 points and second place is good for the championship. Because Rossi crashed in Austin, he is still behind in the championship standings and we made up some points to Marquez," he said.
Today also marked Lorenzo 100th podium in MotoGP. Lorenzo's first podium was his first race in the class at Qatar back in 2008 and in the past eight a bit seasons, Lorenzo has won 42 races of his 100 podiums. 
"I'm happy for my 100th podium in MotoGP," he said.
"To get this statistic with a lot of first and second places means that I am very consistent in this category. So I am happy with this because only three riders in the history of the class have done it before."
Photos via Movistar Yamaha