Emotional podium at Suzuki's home for Viñales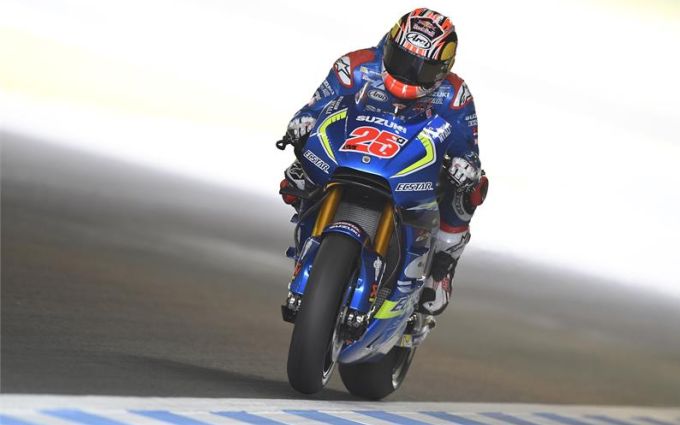 Maverick Viñales claimed what he called an "emotional" podium in front of Suzuki factory workers in his farewell to Suzuki in Japan. 
After a slow start, Viñales worked his way forward slowly, and long battle with his team-mate Aleix Espargaro, Viñales managed to pip his team-mate over the line and claim his third podium of the season. Whilst aided by the crashes of the two factory Yamaha's, a third place was not a result that the Spaniard had expected before the start of the weekend. 
Happy with the podium, Viñales said that whilst he felt comfortable, there was still a lot of scope of improvement, stating that they still ahead lot of potential to express. 
"I'm very happy for this podium because it's the result of two main points; first of all, the team managed to make good improvements since yesterday, delivering me a machine with which I felt more comfortable than yesterday. This means we have a lot of potential to express, still," explained Viñales.
"Second thing, is that I managed to make a very wise race; the jump was not as good as I wanted, but then I decided to stay calm and not to waste the tyre in order to keep some performance for the end of the race. This allowed me to be consistent and keep my performance until the end and getting third.
After passing Espargaro, Viñales said that it was too late to go and hunt second placed Dovizioso, but said that he felt good at the end of the race. With Viñales joining Yamaha for 2017, it was his final race in Japan for Suzuki, something that made his emotional on the podium.
"It was also a nice battle with Aleix, when finally I managed to overtake him it was too late to go and catch up for the second place, but this podium is very emotional, being here in front of all our fans and colleagues from the Suzuki factory."
Photos via Suzuki Racing