Jorge Lorenzo tops red hot day one in Valencia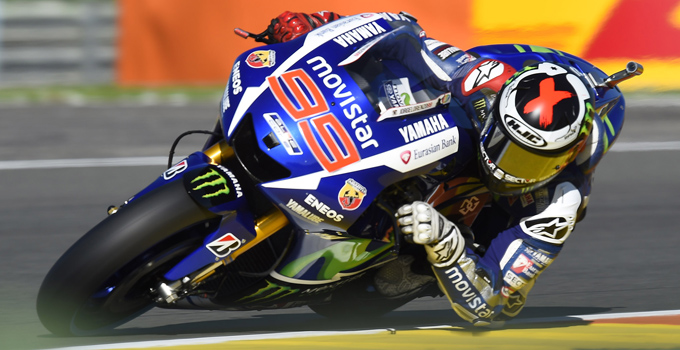 World Championship challenger Jorge Lorenzo topped the time sheets on the opening day of the final MotoGP weekend of the season, scorching his opponents on a hot day in Valencia.
Lorenzo, who comes into Sunday's race just seven points behind team-mate Valentino Rossi, knows that if he wins Sunday's race, he will more than likely be crowned 2015 MotoGP World Champion, with Rossi having to serve his Malaysia penalty and start from the rear of the field.
After finishing FP1 in third position, Lorenzo laid down a marker for the weekend with his blistering run at the end of FP2. He ended FP2 just over a quarter of a second ahead of session second place Dani Pedrosa. Marquez' time from FP1 was enough to keep him in second through the opening day, but he was the only one of the top six not to improve in FP2.
"The day started positively and we improved the bike a lot in the afternoon," said the 28-year-old.
"The bike is working really well and I feel strong, with good concentration. I'm riding well, but the bike, to be honest, is working very well for me to keep a high pace, even with old tyres, so I'm very happy about the beginning of the weekend."
With track temperatures un-seasonally high Honda riders have been complaining about their front tyres over-heating. Both Marquez and Crutchlow said that their fronts were getting too hot. As a result of this, Marquez neglected to use a fresh rear tyre for one final stint in Q2.
"This afternoon we just did runs of 3-4 laps and looks like here after 4-5 laps, not only the rear tyre, but also the front tyre is overheating," he said.
"Because I think nobody expected this temperature here at Valencia and looks like the front tyres are on the soft side. But we are working on the set-up of the bike to try to stress less the front tyre."
Andrea Iannone was the top Ducati as he ended the day in fourth position. Iannone ended FP2 in third position and was just a third of a second behind Lorenzo. Iannone led for a portion of last years race and his fully winged GP15 will be hoping to convert early promise into a front row start for the second year in a row.
Valentino Rossi ended the first day in fifth position, and looks as though he has done enough to earn himself the right to participate in Q2 as his penalty will be enforced on top of wherever he qualifies. The Honda's front tyre struggles, combined with an out of form Dovizioso leaves Rossi in the ominous position of having to consider Lorenzo as a race winner, meaning he would need to achieve the seemingly impossible and finish the race in second position should he want to become World Champion.
Despite the size of the task being further cemented by Lorenzo's opening day pace, Rossi said he is optimistic and encouraged after today.
"When I'm riding I'm more relaxed and I'm quite happy about these two first practices, because already this morning my pace was not so bad and I was also quite competitive with the used tyre, which is very important for the race," explained the World Championship leader.
"I'm also happy that in the afternoon we tried something different that made me increase my rhythm and improve my lap times. I used the hard tyres and it wasn't so bad and after I tried the soft to make a comparison and make the right choice for Sunday.
"It's true that we have to decide our strategy now, because I think it will be difficult to use the 15 minutes of qualifying like a free practice, so I think maybe I can do the normal procedure anyway."
The top five were all under lap record pace, and the top ten were spread over 0.7 seconds. With track temperatures expected to reach low to mid thirties as they did today, Honda will be hoping the front tyre issues don't hamper their qualifying pace.
Danilo Petrucci finished ahead of Andrea Dovizioso is along with Rossi were the only riders not to better their times in the afternoon. The second half of the 2015 season has been rough for Dovi, who'll be hoping he can end the season that started so brightly off on a positive note.
Pol Espargaro was impressive in getting his Monster Tech3 Yamaha M1 into eighth position. For large portions of Q2 Espargaro found himself in the top three, and it was only a flurry of late laps that saw him drop down the timing sheets. In spite of this Espargaro was encouraged by his lap times and says he's disappointed that this feeling has come last race of the year.
"I was able to ride my time fairly easily and the tyres are working really well here, especially the rear which has a lot of grip," said Pol.
"This is certainly also thanks to the high grip level of this circuit, which I like riding at and that I know very well. Therefore, I enjoyed being on my Yamaha today and to see the lap times being strong straight away is a really good feeling after this tough season."
Aleix Espargaro and Cal Crutchlow rounded out the top ten and will find themselves directly into Q2 if nobody improves tomorrow morning.
Photos via Movistar Yamaha