Yamaha explain rejecting Lorenzo's Ducati test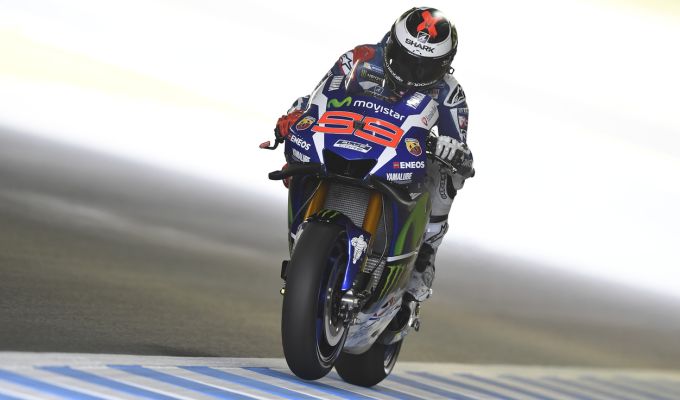 Yamaha Motor Racing Director Lin Jarvis gave a fully explanation on the companies decision to decline Jorge Lorenzo's request to test the Ducati at the end of November. 
News emerged last week that Yamaha had rejected a request by Lorenzo and Ducati to allow the Spaniard the opportunity to take part in a private test at Jerez with Ducati. Lorenzo made the decision to leave Yamaha after nine seasons with the Japanese factory earlier this year, in favour of a switch to Ducati for the next two years. 
Despite signing a contract like every other MotoGP rider, Lorenzo will be given permission to test the Ducati in Valencia by Yamaha, although they have refused to allow him to test the Italian bike two weeks later in Jerez. 
On Friday in a press conference of his own, Jarvis explained that he and Yamaha have declined Lorenzo the opportunity to test the Ducati due to the bigger picture in terms of finance and sponsorship agreements being broken, rather than to simply gain an on track advantage against the Spaniard. 
"Regarding the test in Jerez, I think it's better to concentrate first on the test in Valencia. Because, by contract no Yamaha rider has an automatic right to test for any other manufacturer, or to do anything for any other manufacturer while they're under contract to Yamaha," explained Jarvis.
"Rider contracts are always until December 31st and that's the same for Jorge's contract. The reason why they are until December 31st is this is not only a sport; this is also a business, and for us, Yamaha, we spend a lot of money for our riders' contracts and we want a return on our investment. Of course you never know what the result will be for any season – but the last thing you want is that your right to use your rider finish after the last race. 
"It's not only Yamaha, in our global network, but all of our sponsors and all of our partners. They also signed up to support our team, with our riders, to be able to use the image, and the benefits of that association until the end of the year. 
"So, what we've done with the Valencia test is, in the spirit of cooperation amongst the manufacturers and a so-called – I've read it 'gentleman's agreement' – we've let Jorge be available to do the two days of testing in Valencia. For us, we think that that's reasonable, we think that's correct and that's enough." 
The Yamaha boss continued to explain that their stance is nothing to do with the fact that it is Lorenzo who is leaving, insisting that they would have this stance regardless of who is was. Stating it was nothing personal against Lorenzo.
"For Jorge, and it would be the same for anybody else, it would be the same with Valentino [Rossi] etc. We spent a lot of money on our rider contracts. It is a very, very significant investment," he said.
"For Yamaha, as an example, for our company and sponsors, it would be pretty difficult to explain, why would you let your rider that you are still paying test for multiple days for one of your main competitors. 
"We are willing to play the game and we are willing to do what we think is normal, to allow the riders to have an exception, to step out of their contract for two days in Valencia. But for us, to do more than that – it's a bit like you give the hand, and someone takes your whole arm. We think that two days is already a good concession. We're comfortable with that. We've discussed it at top management level inside Yamaha and this is our company decision."
Jarvis also acknowledged and understood why Lorenzo was unhappy with the decision, saying that he appreciated Lorenzo wants as much track time as possible to get to grips with the Ducati. Whilst understanding Lorenzo's request, he did also admit that Yamaha see Lorenzo as one of their main challengers next season, with his posing a considerable threat at the first race of the season in Qatar. 
"Of course Jorge would like to be given the opportunity to test. His mission is to get up to speed as quickly as possible, to be as fast as possible with the Ducati next year," said Jarvis.
"But next year he'll be one of our our main competitor. So his wish and desire is different to ours. Our desire next year is to try to win the first race and I'm sure Ducati's mission is to try to win the first race. We all know Ducati at Qatar are very strong, we know that Jorge at Qatar is very, very strong. So he will be a serious threat next season from the first race. It's sport, but it's not charity. This is business. Our riders are being paid a large amount of money to perform at the ultimate level to bring our brand to the front."
Jarvis also downplayed the suggestion that Yamaha had refused to grant the request as a retaliation to anything Lorenzo has done behind the scenes, insisting that Yamaha and Lorenzo still have a strong relationship. 
"We have a very good relationship with Jorge. Obviously it's changed slightly, that's normal once someone decides to leave. But there's no animosity," stated Jarvis.
"I've read all sorts of theories on the web forums and on sites, about possible problems going on behind the scenes with Yamaha. It's not true. There is no animosity between Lorenzo and us. He understands we're a professional company and professional team. We understand he wants to leave and get up to speed as quick as possible, and he understands that we have a contract. That's it."
"Put yourself in the shoes of Yamaha, what would you do if you were still paying a rider for another seven weeks? Would you allow that rider to spend all of his riding time trying to improve your competitors performance if you were still paying the contract? You try explaining that to your shareholders, or your sponsors, your colleagues. It's just the way it is. We think Valencia is the industry norm and we find it acceptable to do that. But no more."
Lorenzo ended the first day of free practice in Motegi fastest overall, 0.053 seconds ahead of his 2017 team-mate Andrea Dovizioso.
Photos via Movistar Yamaha