Lorenzo wants to keep his future plans private… for the time being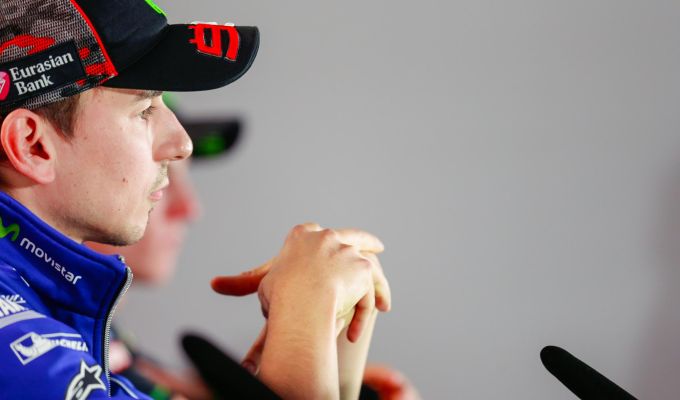 Reigning MotoGP World Champion Jorge Lorenzo has kept his cards close to his chest when asked about his MotoGP future.
The 28-year-old Spaniard has two contracts on the table. He has a two-year contract extension from his current Factory Movistar Yamaha team, an offer Lin Jarvis called "the best of his racing career". He also has a monster contract, thought to be in the region of around 17 million euros a season from Ducati, making Lorenzo stop and take notice of the offer. 
Lorenzo's team-mate Valentino Rossi signed a two-year contract extension at Movistar Yamaha prior to the first Grand Prix of the season in Qatar two weeks ago, offering Lorenzo a contract early in anticipation of an approach from Ducati.
Despite saying on multiple occasions in the past that he wants to resign and eventually retire with Yamaha, the Ducati offer is clearly considering the Ducati challenge. The money is a head turner, but the prospect of winning on a second bike, and a Ducati at that, would cement Lorenzo's legacy as a MotoGP rider, something he is clearly thinking about. 
Just last week Lorenzo revealed he hoped to make a decision on his future before the first European round of the season in Jerez in three weeks time, something he reiterated once again today in Argentina.
"The situation for me is more or less the same as Qatar," said the Majorcan.
"For now we have to concentrate on these two races that are very important. For the moment, we haven't had victorious here, not in Argentina and not in Austin."
"To be honest I don't want to say too much more. I want to keep this private with my people and I will decide in the next few weeks. I don't want to say too much more," added the five-time World Champion. 
Despite further prompts in Spanish, Lorenzo declined to comment about his future, leading to Ducati to genuinely beleives they have a chance to securing the man they have coveted since 2010. 
Photos via Movistar Yamaha