Ciabatti admits Ducati's interest in Lorenzo and Marquez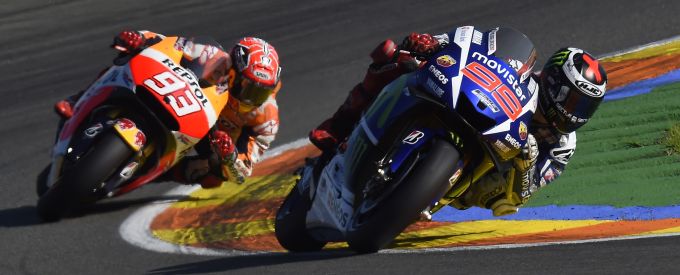 Ducati Corse Sporting Director, Paolo Ciabatti has admitted that Ducati are interested in securing the services in Jorge Lorenzo and Marc Marquez in 2017. 
We are yet to complete a competitive lap in 2016 yet, but the attention of many riders and teams is already looking towards the contract situation for 2017. Every factory rider has a contract that expires at the end of this season, whilst the likes satellite riders Bradley Smith, Pol Espargaro and Danilo Petrucci are also "free-agents" at the end of 2016. 
Despite the fact that there are so many riders with expiring contracts, the big factory riders have all expressed a desire to stay with their current teams. Long-term Ducati target, Jorge Lorenzo last week reiterated his desire to re-sign and eventually retire with Yamaha. The chance to win with Ducati after the struggles Valentino Rossi so famously faced may be the incentive the World Champion needs, whilst Rossi himself has hinted that he's looking for a two-year extension with Yamaha. 
Even though both Marc Marquez and Dani Pedrosa having struggles at Honda in recent months, the duo have expressed their desire to stay with HRC, leaving Ducati is a difficult situation if they wish to replace either of the Andrea's in 2017 with an "alien".
The shadow of Casey Stoner will loom large over Ducati in 2016, although Stoner has said on multiple occasions he has no desire to return to MotoGP in a full-time capacity, no matter how well his testing duties go. 
All of this leaves Ducati in with a tough task ahead if they wish to lure one Lorenzo or Marquez to Bologna next season, but that doesn't mean they won't try, even if they already know it will take an exceptional offer to turn their heads.
"Our riders are extremely fast, but if you look at the standings, there are four riders who've made it even better," Ciabatti told Speedweek.com.
"We can forget about Rossi for obvious reasons. His connection to Yamaha is very strong and his experience with Ducati was not particularly positive. Dani [Pedrosa] is a great rider, but he's spent his entire career with Honda.
"If you look at the riders who can win the World Championship and are available, then you'd say Lorenzo and Marquez. It would be absurd to say we are not interested."
Photos via Movistar Yamaha