Viñales delighted with warm weather progress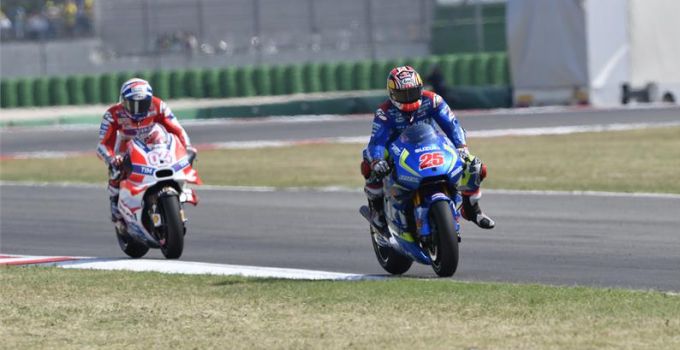 British MotoGP race winner Maverick Viñales said he was happy with his fifth position finish in Misano and with the progress made by the factory Suzuki in the warmer weather shown during Sundays race. 
The Spaniard said during the post race press conference in Silverstone that the weather was cold, so he won. Whilst joking, the narrative remained true, the Suzuki performs considerably better in the colder conditions than it does in the searing heat. 
Despite not having the pace to match the factory Honda or Yamaha's for the full race distance, Viñales did come out on top of a race long battle with Andrea Dovizioso – which saw Viñales have to drop behind the Italian at one point due to exceeding track limits.
After the race, the Spaniard said that he was happy with his fifth position in Misano as well as the progress of the Suzuki GSX-RR in the warm weather with some long, hot races on the horizon. 
"I am really satisfied with this race, and although I couldn't get on the podium, fifth place is a really good result if we consider our starting points; this was one of the hardest tracks for our machine and here it was really hot – a condition in which we have always been struggling recently," said the 21-year-old, who dropped back behind Dani Pedrosa in the World Championship standings.
"Finishing in fifth place, after winning a fierce battle, is a positive result. During the race I felt really confident with the front, but the rear had no grip at all, so I had to push really hard and adapt my riding style.
"I managed to keep with the leading group at the beginning but then I had to go back. At around half-race distance I felt I could push more and my lap-times became faster again. I had to give-up one position for having exceeded the track limit but recovered immediately.
"I must say thank you to my team, they did an incredible job and it's really a relief to be aware that now we are getting competitive also in hot conditions."
Photos via Suzuki Racing