Pedrosa delighted with victory; admitted tyre choice was a gamble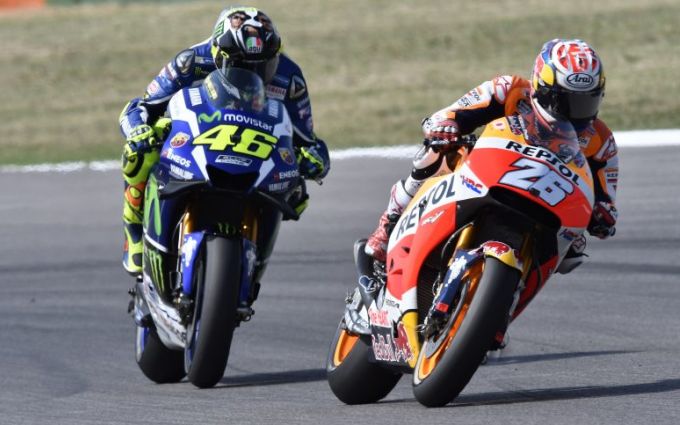 Dani Pedrosa was understandably delighted after claiming his first win since Malaysia 2015 today in Misano.
The Spaniard gambled with a softer front tyre than his main challengers, something that ended up being key in allowing Pedrosa to cut through the field and eventually take the win. Pedrosa closed and past all three of Marquez, Lorenzo and Rossi, before going on to set history becoming the eighth different winner in as many races in 2016.
The 14 race run in which Pedrosa didn't stand on the top step of the podium was the longest of his eleven year career. The 30-year-old was slightly surprised by the pace he had in the closing stages, but was also happy for credit to go to his family, team and fans. 
"It was a great race, and it has been a long time since I've had these feelings. Even I was surprised by the performance I put in today because I hadn't expected to go so fast; we were fantastic," said Pedrosa.
"The key was the pace; I was able to fight my way through, especially in the final part, and being consistent allowed me to catch the riders at the front. It's very nice for me to take a victory again, after all the effort made by those who have been with me in this challenging season so far: my family, my team and my fans. It has been very difficult, so I'm very happy for all of them.
Pedrosa did gamble with his front tyre, admitting he wasn't sure if it would last the distance as he hadn't had a chance to test it in the warmer conditions.
"Today I enjoyed myself, although I was a little worried about the choice of front tyre because I hadn't used it in hot conditions. In the end we were focused and everything went very well; it was an opportunity we had to take advantage of, and I think we achieved a great victory."
With his win today, Pedrosa moved nine points ahead of Maverick Viñales and back into fourth position in the MotoGP World Championship, only 17 points behind third placed Jorge Lorenzo.
Photos via Repsol Honda