Lorenzo and Rossi involved in post-race argument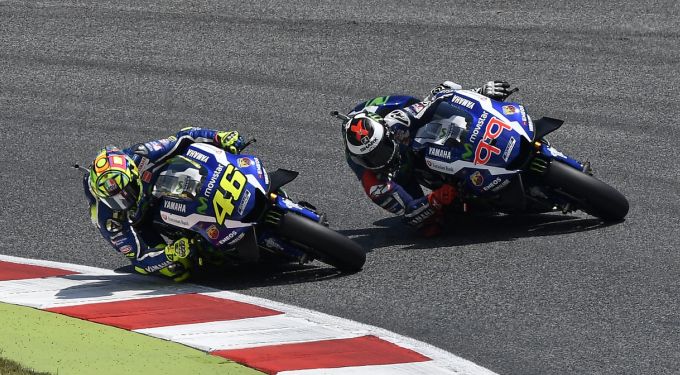 Factory Yamaha riders Jorge Lorenzo and Valentino Rossi were involved in an uncomfortable argument during the post-race press conference, all over an overtake the Italian put on Lorenzo in the early stages of the race.
On the third lap of this afternoons San Marino Grand Prix, Valentino Rossi put a firm pass in on his team-mate at the end of the sequence of the fast right handers. The move clearly caught Lorenzo off-guard who had to sit up to avoid contact between the two. 
This is what the argument was over… Was it too aggressive? #SanMarinoGP https://t.co/GfD36mSEfs

— GPxtra (@GP_Xtra) September 11, 2016
Lorenzo never managed to truly get a chance to fight back at the Italian, and whilst confessing immediately after the race that both Rossi and race winner Dani Pedrosa were just faster than him on the day, the World Champion was clearly upset by the move Rossi put on him. When asked for his view on the move, Lorenzo questioned the fairness of the move on him.
"If you ask this question (over if the move was fair) then maybe it's because the move is aggressive, if not then you don't ask this question," said Lorenzo.
"You can have different opinions, my opinion was that the overtaking was maybe too aggressive. He didn't need to make this overtaking, but you know this is his style. Other riders overtake more cleanly." Rossi started laughing at this point which clearly infuriated Lorenzo, who turned to Rossi and said: "It is true, you don't know?"
Rossi, still smiling told Lorenzo to take another look and watch the replays. "No, no. Try to look another time at the overtake on the television," said the Italian. Before Lorenzo snapped back again, explaining that if he hadn't taken evasive action, that he would've crashed. 
"If I don't pull up straight the bike, we crash together. Maybe you don't crash, I crash for sure," he said.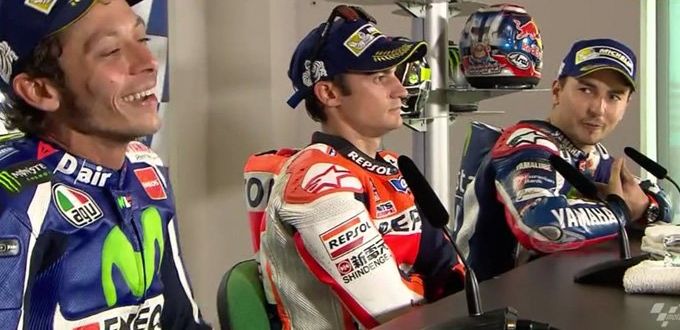 With Pedrosa sat awkwardly in the middle, Rossi denied the suggestions of Lorenzo that he would've crashed had he not made the move, Rossi pointed to his battle with Marc Marquez last, and the aggressive nature of some of the passes in Silverstone last week. 
"This is not true. I don't know what I have to say about him? (Pointing at Pedrosa) Or Marquez in Silverstone where he overtook ten times like this. What you say, is not true," he said, before Lorenzo simply told the Italian it was his opinion and to watch videos of the past. Rossi then turned the tables on Lorenzo, saying that Lorenzo is also culpable of aggressive overtakes himself.
"Also you overtake always aggressive, why you say me?" Said Rossi, before Lorenzo asked when, offering further explanation on his take of todays move. 
"When? But respect my opinion, don't laugh, respect my opinion, this is my opinion. Also race direction have another opinion. For me, if I don't pull up the bike straight up, I crash. Anyway he didn't need to do this overtaking, he was better than me today and he would pass me sooner or later but he didn't need to be so aggressive on me, I think, but any way he will have another opinion."
Rossi and Lorenzo have just five more races left as team-mates before the Spaniard leaves the Yamaha factory in favour of a switch to Ducati for the 2017 season.
Photos via Movistar Yamaha and Dorna