Brad Binder gets one hand on World Championship with Misano win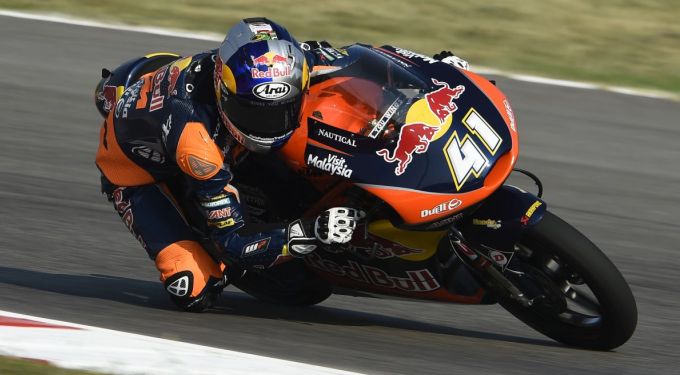 Brad Binder got one hand on the Moto3 World Championship with thrilling victory in Misano – with nearest challenger Jorge Navarro crashing out in the opening stages of the race. 
Binder, who had a 86 point lead coming into Misano over Navarro, extended his lead to the point where he only needs a maximum of 20 points from the final five races in order to secure his first ever World Championship. 
Binder exhibited all the skills as to why he will win the World Championship with a perfect ride to claim victory over Enea Bastianini by just 0.262 seconds. The South African and Bastianini broke away from the pack with 13 laps to go before a cat and mouse battle unfolded.
With five laps to go, Bastianini took over at the front and Binder sat in behind, monitoring and stalking the Italian, before making his move on the final lap. Through the fast right hand in turn 12, Binder slid under 'the Beast' and held on in the final few corners to claim his fifth win of the season.
Binder now sits on 229 points atop the World Championship and leads now second placed Bastianini in the standings by 106 points. With just 125 points available in this years World Championship, Binder only needs a second place (on the provision that Bastianini wins) in Aragon to be confirmed as World Champion.
Joan Mir claimed his second podium of his career after a massively impressive third position, finishing just ahead of local rookie Nico Bulega – this was in spite of having to let Bulega through with just two laps to go due to exceeding track limits. 
Andrea Locatelli came out on top of a five rider battle for fifth position, finishing ahead of Aron Canet, Phillip Öttl, Ono and Fabio Di Giannantonio. 
On the occasion of their 100th Grand Prix start, Mahindra capped a tough weekend with wildcard Stefan Manzi finishing top Mahindra in 16th position. 
Photos via Ajo Motorsports