Rossi happy with second place qualifying; focusing on small details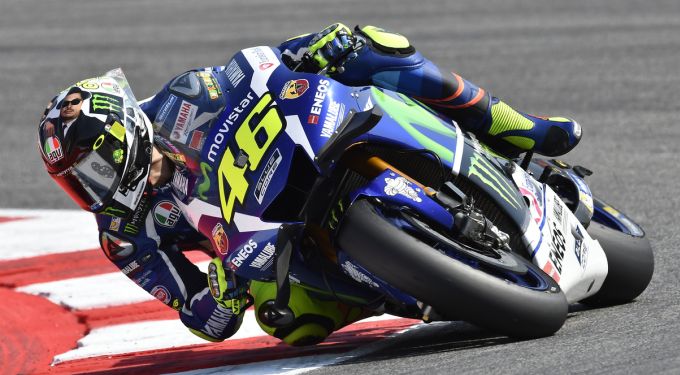 Valentino Rossi said he is happy with his second, second place start in as many races, with just small details needed to be focused on ahead of tomorrows race.
The Doctor was down in eighth position after the first run of qualifying laps, before putting in a second tyre and jumping up onto the front row. Rossi – whose special home helmet this year depicts him and best friend Alessio Salucci as the Blues Brothers – went into second position with his first flying lap after sticking his second tyre in, only to see the lap cancelled after exceeding track limits. Fortunately for Rossi, his very next lap was good enough to bump him into second position.
Despite not having the lap record pace to challenge his team-mate on the day, the Italian said that he was happy with the fact he will start from the middle of the second row and the pace he managed to put in around the Misano circuit.
"1:32.216 is a good lap time and especially second place is very important. Starting from front row tomorrow is good and now we have to concentrate to fix all the details and then we'll see," said the nine-times World Champion.
Rossi's team mate, Jorge Lorenzo has been vocal with his displeasure with the Michelin tyres, and today the other Movistar Yamaha rider faced difficulties of his own. Struggling after the first run, Rossi said he noticed a big difference between the two different tyres used today. 
"It was a difficult qualifying as always. This weekend we found different performances from one tyre to the other and with the first one I spun a lot so I thought: 'I hope the second one is better'. In fact with the second one I had better grip, so I could push more," Rossi said.
"Already on the first lap I was 0.6s faster, but I was able to do a little bit better."
Photos via Movistar Yamaha