Rossi: Marquez will be hard to beat tomorrow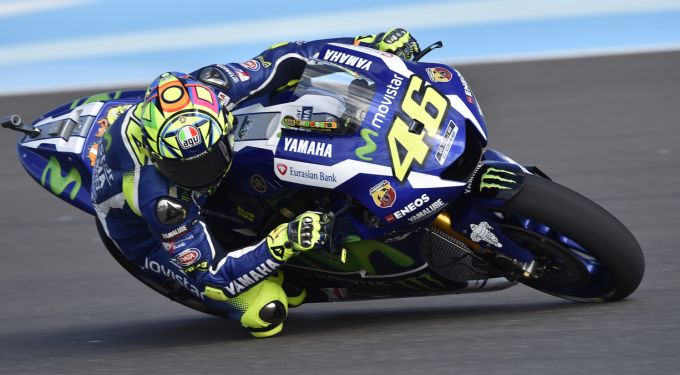 Valentino Rossi has admitted it will be tough to topple pole sitter Marc Marquez, admitting the podium is a much more realistic target for tomorrows Argentine Grand Prix. 
Rossi used all of the allocated fifteen minutes of the qualifying session as he pipped his team-mate to second position after the chequered flag was flown as he gets the psychological edge back over the Spaniard. 
Rossi's best lap, a 1'39.786 was a tenth and a half faster than Lorenzo's time, but still three tenths behind Marquez' pole position lap time. 
Last season's victory in Argentina was vintage Rossi. Starting from eighth he managed his tyres better than Marquez did, catching the Spaniard with two laps to go. Once he caught the Spaniard and passed him, the duo clashed causing the Spaniard to crash out of the race allowing Rossi to cruise home to his second victory of the season. 
This season the Doctor will start from the middle of the front row, somewhere that he hopes will put him in a great position to replicate last seasons result.
"Last year in Qatar and also here in Argentina the qualifying was bad, but on the other side the races were fantastic. Now we have done a good qualifying, but the race will be tomorrow," explained the 37-year-old Italian. 
"Anyway I'm quite happy because we worked well on the bike and also the track improved a lot today, we can push more and also have a good pace."
Despite starting alongside Marquez, Rossi knows it will be difficult to go with Marquez if he gets well from the line. Marquez has been quickest in every session so far this weekend, and with all riders being forced to run a new medium compound rear tyre due to safety concerns, Rossi feels like a podium is a much more realistic target than being expected to race Marquez. 
"I think battling with Marquez will be hard because he is faster, but I'm not so bad and the most important thing is to fight for the podium and make it a good race," said Rossi.
Riders will be given an extra half an hour warm-up session tomorrow morning as well as the mandatory twenty minute morning warm up session in a bid to find a set up for the new medium tyres, something Rossi hopes will prove to be safer for all riders.
"This new allocation changes the situation a lot, because I thought they would pull the soft tyre and we could race with the harder option, but unfortunately we have to race with a tyre that we never tried before," said the Italian.
"With this decision we have to start from zero, so we have to hope that tomorrow morning in the half hour warm-up we can understand the situation and that this tyre is safer. Everybody is in the same boat, so we will see what happens tomorrow."
Photos via Movistar Yamaha