Rossi upbeat despite missing out on the podium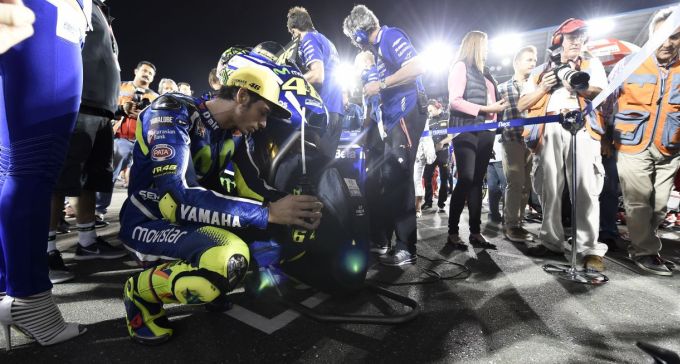 Despite missing out on the podium in Qatar, Valentino Rossi was happy with his fourth position in the opening MotoGP of 2016.
The Italian of course missed out on the 2015 MotoGP World Championship title, but after qualifying in eighth position, Rossi found some pace in warm-up ending the session in fourth position. 
Tyres were proving to be the biggest mystery surrounding the opening race of the season. 2016 saw the entire MotoGP field change from Bridgestone to Michelin tyres. With no history on the new tyres, nobody knew what compound of tyres to run this evening. 
Rossi elected to run the harder rear tyre along with Marc Marquez, whist his team mate and eventual race winner Jorge Lorenzo took a last minute gamble and changed to the softer option tyre on the grid, a move that paid off for him.
Fresh on the back on his new two-year contract with the Movistar Yamaha team the Doctor was left feeling pragmatic after the opening race of 2016, despite not being able to mount a serious challenge to Lorenzo, Andrea Dovizioso or Marc Marquez for a place on the podium.
"At the end it was a great race, the pace was very fast from the beginning to the end, but unfortunately I stayed behind and I didn't have enough speed to try and attack," explained the 37-year-old.
"I was there but I was never in the real fight, I was always a little bit behind. We need a faster pace and maybe the tyre choice can make some difference, but we don't know. Maybe with the soft tyre I could go faster or I could go slower. We arrived behind and unfortunately didn't get on the podium, but it was a good race anyway, with a good start. We are there, we have to work, but for sure we are competitive."
The topic of tyres will continue to be a hot one in two weeks time when the Grand Prix paddock reconvene in Argentina. Last year Rossi won the Argentine Grand Prix judging his tyre and race strategy to perfection, something the Doctor hopes to replicate this year.
"Last year in Argentina was a great race, one of the best with a great pace and I was coming from behind, but this year it will be a different story, especially with the tyres. We need to understand our potential this year."
Andrea Iannone crashed out of the Qatari Grand Prix whilst battling with his team-mate for the lead. Last year Ducati managed to claim a double podium in Qatar before the first chink in their armour was shown when they struggled in Argentina. Many have tipped the Ducati to be even stronger this year, and when asked about the Ducati's chances to win the World Championship this year, Rossi simply replied with: "Why not?"
He continued, "they are fast from the beginning right to the end. They have very good top speed, as we knew, but they're also very fast in the corners. I think also Iannone, if he didn't crash, he could've stayed there until the end. So I think that the Ducati is very strong."
Photos via Movistar Yamaha