Rossi: We have a lot of work to do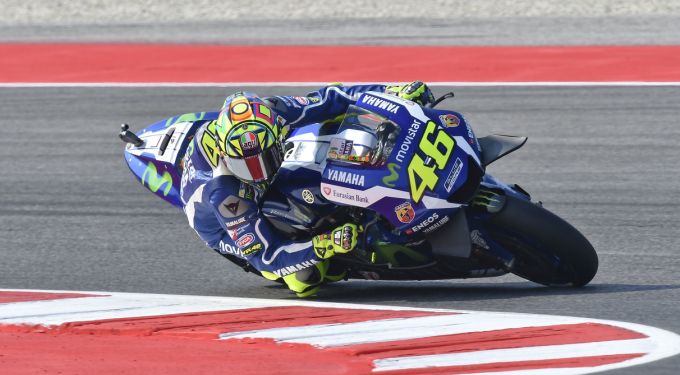 Home-town hero Valentino Rossi said that he and his Movistar Yamaha team still have a lot of work to do ahead of this Sunday's San Marino Grand Prix in Misano.
Rossi was born and lives just 10km away from the Misano circuit in the town of Tavullia, meaning the Italian is very popular around the Adriatic coast. After ending the morning session fastest overall, 'the Doctor' eventually ended the first day of free-practice sixth fastest overall 0.618 behind the fastest time set by Pol Espargaro.
Rossi said that he suffered with later in the day as the temperatures got higher, saying the afternoon made it more difficult. With a long race which will be run in the heat of the day at 2pm local time on Sunday, Rossi said he has a lot of work to do tomorrow morning.
"We started very well this morning. With the cooler temperatures this morning I was stronger, but in the afternoon we suffered a bit more, like more or less everybody else, and it became more difficult," said the nine-times World Champion.
"We have a lot of work to do because we are a bit on the limit with the front tyre, so we need to try to find the right balance, also considering that the race will be very long."
Rossi was involved in a controversial moment in the early stages of FP2. The Italian was on a fast lap, when in the final sector Rossi came upon two slow riding Suzuki's. The first one Rossi faced was that of Maverick Viñales, who stayed wide and out of the Italian's way. When Rossi approached Aleix Espargaro, the Spaniard left a lot less room for Rossi, prompting the Italian to get very animated aboard his Yamaha M1. Espargaro stayed alongside Rossi, before coming down pit lane.
As Espargaro came down pit lane, Rossi remained on track and was still visibly upset with what had just happened. Still hot under the collar, Rossi decided to slow down on the main pit-straight and ride very closely to the pit wall. After more hand signals and back and forth with Espargaro, Rossi stuck his middle finger up at the Suzuki rider, prompting an interesting moment after the session had finished. 
Rossi went to find Aleix after FP2, Aleix simply said 'fuck you' – still a sensitive issue then #SanMarinoGP

— GPxtra (@GP_Xtra) September 9, 2016
"I don't know his behaviour and it's not the first time. It happened exactly the same in Austria. I pushed and arrived behind the two Suzukis. Both riders see me… Viñales and Espargaro. Viñales went wide and Espargaro remained on the line. Sincerely I don't know why," explained Rossi.
"After I say to him. I say to him: 'What are you doing?', and he said to me, 'fuck you', so for this I was angry. It's enough to say sorry, but they don't know the way to say sorry, so it's better to say, 'fuck you'."
Photos via Movistar Yamaha