Rossi hoping for dry race on Sunday; tyres the biggest problem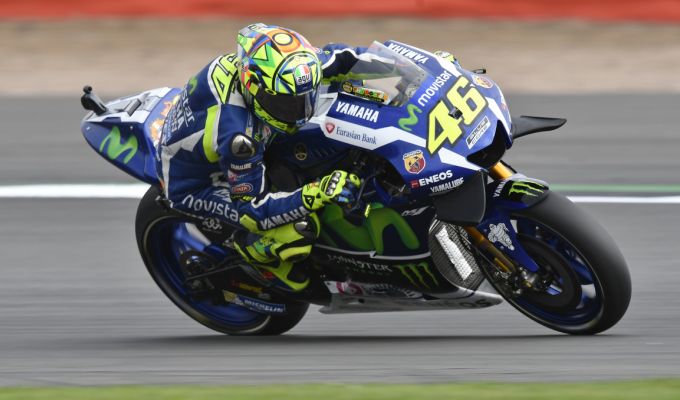 Nine-times World Champion Valentino Rossi has said that he is hoping for a dry race tomorrow, despite being more competitive in the wet. 
The Italian will start second, behind Cal Crutchlow, for tomorrows British MotoGP after managing the awful conditions. Despite only finishing tenth fastest and a second off of the pace of Marc Marquez in FP3 Saturday morning, Rossi said that he, like everybody else on the MotoGP grid would prefer a dry race tomorrow afternoon.
"At this moment, for me I'm stronger in the wet, but I prefer always dry, like or less everybody," said the Doctor, after qualifying.
"Now, we need to try to be strong on the dry. We can work and maybe modify some things and I hope it will be dry for tomorrow, but dry also from the morning so we can try some things in the warm-up, because also the tyre choice is unclear for a lot of riders."
Rossi explained that the tyres were the biggest difficulty for him in the dry. Without completing a full race distance, nobody knows how the softer compound tyre will hold up over twenty laps. 
"First of all we are not very good with the tyres. With the front, I have a good feeling with the soft, but it's difficult mid-race, and the other tyres that I tried made the bike more difficult to ride.
"Also with the rear it is the same. The soft provides good grip but it is difficult for all the race. In general I need to stay a little bit much on the edge. For this reason, I think the tyres suffer and now we will try to understand tomorrow morning what we can do. The warm up is twenty minutes later and we hope we have 20 degrees track temperatures, then after that, we'll see."
He went on to explain: "After seven or eight laps, the problems start, but you need to last 20 laps. It looks like the top three, Iannone, Viñales and Marquez can stay constant, so we need to try something to be strong in the second part of the race."
Photos via Movistar Yamaha