Arm pump ruins Iannone's race; Happy to see Suzuki win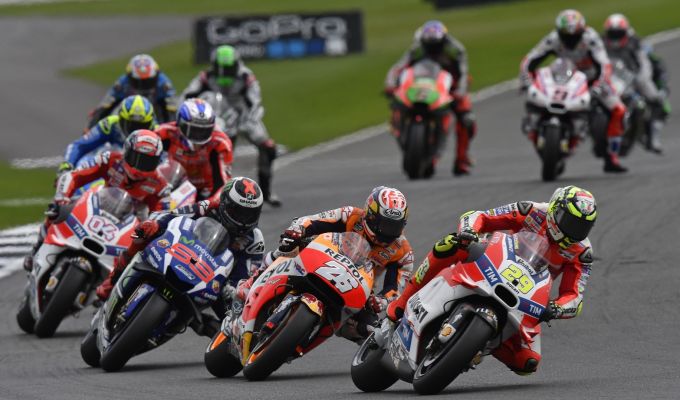 Andrea Iannone's British Grand Prix was marred by an unexpected arm-pump issue, although he did confess to being happy to see Suzuki claim their first win in nine years. 
The Italian was looking strong before crashing out of second position in the final corner in the middle of the race. Iannone said that the crash was due to an unexpected arm pump issue and hitting a bump in the middle of the corner. 
Iannone said that he had previously undergone surgery for his arm pump issue back in 2013, but that it came back during Sunday's race out of nowhere, and with a vengeance. 
"I'm very happy, because I rode very well and I have a very good speed for the race. I control a lot from the first lap and also at the last lap before the crash. But my big problem, is from nine laps to go I have a big pain and didn't have control with my arms, and I have a very, very, very big problem," explained 'the Maniac'.
 "I have two solutions, I stop and come back in the box and don't finish the race because it's very difficult. I ride with my left hand and I'm not in power or sensitivity, it's very difficult. I think I brake and it's like I brake very, very strong and I not brake. It's very difficult to control the bike, or change direction, I arrive always too late.
 "And the last solution was to continue the race and I ride at the best and I try my best. It was arm pump. I have had an operation, but it was the first time since 2013, the first time it's come back, it's come back very strong," he said.
 "When I arrive after nine laps I have after five or six laps a little pain, but I control everything. I have power to control, but from nine laps I ride without control. I ride with only my left hand and it was a problem when I change direction and in the braking point. I don't have sensitivity, its very, very difficult."
 "When I arrive at last corner and change direction, I arrive a little but late, and I touched the bump. When I touched the bump, I lose the front, immediately. So, I try my best in these last five laps, but is very difficult to control for all the race."
Despite crashing out of the race, the Italian was happy with how he rode and the progress he and his team made. With his home Grand Prix of Misano this weekend, Iannone said he was very happy with the speed he showed, despite only being able to ride at "80%". 
"The positive point was I was not push at 100%, I push at 80% and I control everything," he said. "I have a very good head in this moment, but for the race I control everything and I am very happy because I arrive at the race in very good way. I overtake in the good moment, the correct moment. I think it is a very, very good race."
Iannone will be leaving the factory Ducati team at the end of the 2016 season to make way for Jorge Lorenzo. With Ducati deeming Iannone expendable, he agreed to join Suzuki to replace the Yamaha-bound Maverick Viñales. When asked if he was happy to see Viñales claim Suzuki's first win since 2007, he said: "Yeah I am very happy, but in the last three or four races they went forward a little bit."
Before going on to talk about where he is, and the biggest problem he is currently facing with the Ducati Desmosedici.
"We improve and have a good feeling with the bike. I think I ride very fast, but I think we have a little bit too much movement in the exit of the corner. We have a strong acceleration, but the bike has a lot of movement and it's difficult to ride when you ride at this track, because you pick up the bike and run very strong. I try my best to control the bike, but OK," said Iannone.
Photos via Ducati Corse