Marquez: In San Marino I expect to be fighting for the podium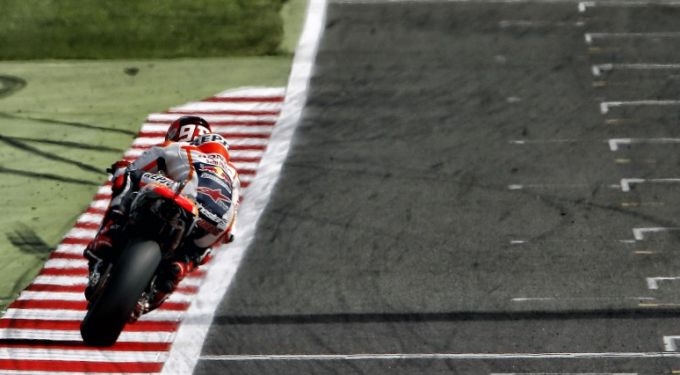 MotoGP World Championship leader Marc Marquez has said he is expecting to fight for the podium this weekend and the MotoGP paddock heads straight to Misano.
Marquez this past weekends British Grand Prix in fourth position, just missing out on the podium after losing second place to Cal Crutchlow after a mistake in the closing laps at Silverstone. Whilst finishing in fourth place, Marquez was part of an enthralling fight for the remaining two podium spots with Crutchlow, Valentino Rossi and Andrea Iannone. 
Whilst not getting the result he wanted, Marquez did manage to limit the damage to Rossi to just three points, meaning he still has a 50 point lead over the Italian. 
Without dwelling on the past weekend, Marquez said they were happy to only lose three points after making a mistake with the front tyre choice, and he is happy to head to Misano, where hopefully the MotoGP paddock will be bathed in sunshine. 
"All in all we got an okay result in England, as even though we didn't make the ideal choice with the front tyre, in the end we lost just three points," said the 22-year-old.
"Now we head to Misano, which is quite a different track as it is twisty and slow. In San Marino I expect to fight again for the podium if we work well during the weekend. I'm happy to go racing in Italy, where I really hope the weather will be nice and give us the chance to make the most of every session."
Marquez won last season's San Marinese Grand Prix from Bradley Smith and Scott Redding in a hectic flag to flag race.
Photos via Repsol Honda