Iannone fastest on second evening; seeking race pace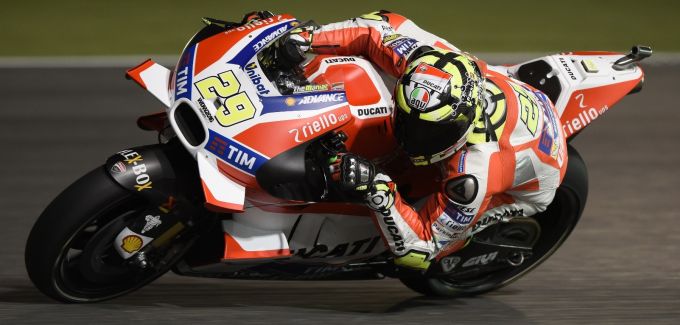 Andrea Iannone led the second evening of proceedings at the opening weekend of the 2016 MotoGP season, but rather than resting on his laurels, the Italian is instead seeking more race pace for Sunday's curtain raiser. 
The factory Ducati rider topped both the the FP2 and FP3 timing sheets after both of this evenings sessions, leading the three practice sessions in total by 0.137 ahead of reigning World Champion Jorge Lorenzo. 
Many have felt that Ducati have had something in reserve, especially in Qatar where they have up to 12kph over the Yamaha's. Despite the pace shown, the 26-year-old feels there are a lot of areas in which he and his Ducati GP16 can improve.
"I want to improve my pace for the race," explained Iannone.
"I have some problems on the bike and I want to improve the stability and the movement a little. If we improve, then for sure we'll improve our pace because the bike is easier to ride and for sure we'll try."
One of the areas in which Iannone has targeted a possible area of improvement is the feeling at the bike of the bike with his new rear Michelin. 
"[There was some grip issues]On the back, because here it is another story – everything is different. Here, everything changes and it is different for everybody," he explained.
"I think the strategy for the qualifying, is possible to change. We tried to push from the beginning but in practice it's not so bad, but for me in FP2 it was very difficult because I changed the tyre, I tried to push a lot and I had problems in the back. The feeling is different."
When discussing the qualifying strategy, Iannone didn't know if he will go quicker with a brand new Michelin rear, or if he would get more grip from an already used tyre.
"This tyre has a really good positive point, lap by lap you improve, so is it better if you come back into the box and put in a new tyre, or continue with this? This is the question at the moment, but for sure we tried the best.
"It's good for the race for sure but after six or seven laps, sure it drops because this is normal. I am really happy with both tyres, rear and front; for me they are a little step forward. The Michelins during the winter improved a lot and I am really happy for this."
Photos via Ducati Corse