Ciabatti: Iannone must curb his enthusiasm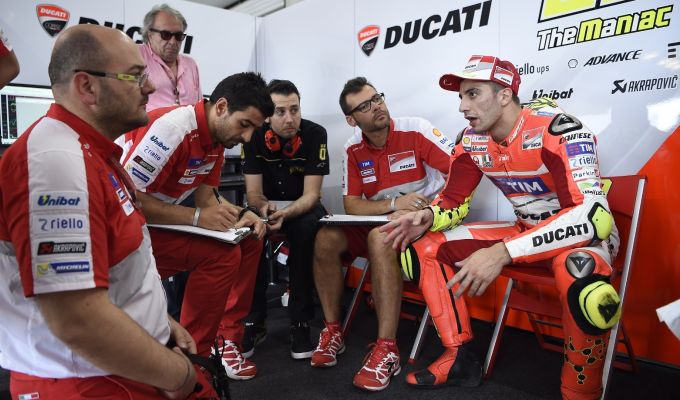 Andrea Iannone must curb his enthusiasm according to Ducati Sporting Director Paolo Ciabatti after crashing into his team-mate Andrea Dovizioso during the penultimate corner of last weekends Argentine Grand Prix.
Ducati were on course to celebrate their first double podium of the season at the weekend after both of their riders had dispatched of Valentino Rossi on the final lap of the Termas de Rio Hondo circuit, before in the final corner a suicide lunge by Iannone saw both Factory Ducati riders crash out of the podium positions. 
I don't think Iannone can have any defence for this move https://t.co/UKVF5lQZ2o

— GPxtra (@GP_Xtra) April 3, 2016
Despite apologising for the move, it does leave Iannone under pressure from Ducati.
The Argentine Grand Prix marked the third race in a row in which the Italian had crashed out of the race whilst in a competitive position. Iannone crashed out of fourth place in Valencia during the final race of 2015, before losing the front end of his Desmosedici whilst battling again with his team-mate during the 2016 season opener in Qatar. 
Iannone was punished by race direction with a penalty point and a three place grid penalty which will be implemented during this weekends race at the Circuit of the Americas in Austin, Texas.
Ciabatti admitted that he and Ducati let tempers calm before evaluating the situation, before confessing that 'the Maniac' may need to calm down a touch. 
"We let tempers calm for a moment, we then analysed the situation with the riders, especially with Iannone," Ciabatti said in an interview on Italian radio station Radio 24.
"We weren't happy with the attack at his teammate, when the team was about to take home a double podium. He certainly hasn't done himself any favours, much less his teammate or Ducati."
"We know he's very fast and has a big heart. Obviously he's very disappointed because he realised he tried a manoeuvre which led to disaster. He's an extremely talented and intelligent rider, however he must curb his enthusiasm because now he must finish races.
"This is even more the case when you get close to the finish line on a weekend as difficult as this one. It would have been an important result for Ducati."
Photos via Ducati Corse