Andrea Iannone pushes 150% to claim fifth position in Le Mans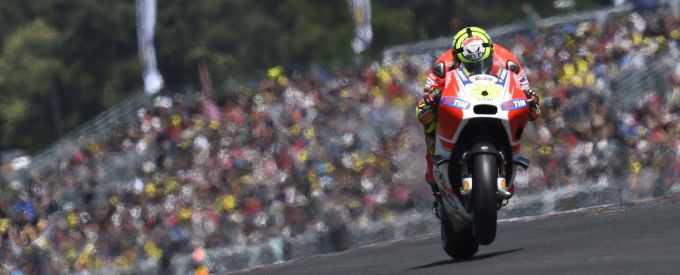 Andrea Iannone battled through immense pain, days after dislocating his left shoulder to claim a memorable fifth position during the French Grand Prix at Le Mans.
The Italian dislocated his shoulder last week, and after running with the front runners during the early stages of the race, fitness became an issue for Iannone during a gruelling 28-lap race. In spite of this, he still managed to produce an enthralling battle with Marc Marquez in the closing stages for fourth position. 
The shoulder wasn't the only issue for Iannone. His shoulder started losing strength at the half-way point, Iannone admitted he overworked his right arm to compensate, and as a result started suffering from arm pump.
"It's strange, but I'm really happy for the race today, because I think my performance was really good," said Iannone.
"It's a really difficult situation in the race, because in the beginning, I'm really strong, I have a good feeling with the bike, it's possible to push really hard. I follow Jorge and Dovi, so I have a good feeling with the track, with everything to be able to push.
"But after half race, the situation is complicated a little bit, because I have a lot of pain in my shoulder, and I don't use at 100% my left arm. I use a lot the right arm, and I ride more with right arm, and after half race, especially, it is really difficult for me, because the feel in the braking point is really bad."
It was at this point, that Iannone started to feel the effects of his shoulder, and the resulting arm pump.
"At this moment, I think 'OK Andrea, stop' because the situation is really complicated. I risk a lot, risk to crash and go out of the track, and I want to come back in the box."
With a shoulder losing strength, and arm pump coming on, Iannone decided to stop pushing as hard, to try and stay with the front four. Instead the Italian decided to conserve energy, and brace himself for a late battle with Marquez and Bradley Smith.
"I think OK, I wait two or three laps, I go really slow in these laps, and the situation improve a little bit. But Marc and Bradley arrive, and try to pass me, but I don't want, because for me, it is really important to stay in front of Marc and Bradley for the points, for the championship.
"When Marc pass me, my situation is really really difficult, because I don't have a lot of power and a lot of energy in my body.
"But I try at 100% for fight with Marc, and so I think is a really good fight with him, a really good spectacle. So I'm really happy, but is really important for me and my team this weekend, because they help me a lot to adjust the bike, and for sure the Clinica Mobile guys work with me a lot and help me for improve the condition. And this is really important, and I want to thank them a lot." 
When asked about his late fight with Marquez, The Maniac admitted that he had to up his effort to stay ahead of Marquez.
"I push hard, I think 150%! Because yes, my arms in the left is like I don't have one, and with the right arm, I have arm pump, because the sensation is nothing. But for sure I want to stay with him, I want to arrive in front of Marc, that is really difficult because he stay in the physical condition OK, I think. But I'm really happy, I try my best this race, and I hope to improve my physical condition for Mugello, because it's a really important race for me, and for my team."
Photo via Ducati Corse