Lorenzo: We need to use the warm up to be ready for a dry race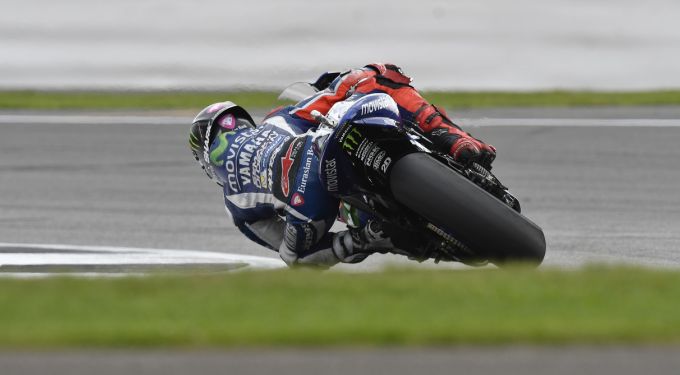 Jorge Lorenzo has said that he and his Movistar Yamaha team will use the 20-minute morning warm up session as preparation for a dry race tomorrow afternoon. 
The defending World Champion will start tomorrows British Grand Prix from the outside of the third row, doing a damage limitation job in the monsoon conditions of Q2. Lorenzo – who has struggled in the wet since his crash at Assen two years ago – said that he was feeling confident after FP4 when the rain was relenting, however a downpour during Q2 prevented the Spaniard from lapping after faster than his first flying time.
"In FP4 I was quite fast at the end of the practice and the track was drying up. There wasn't so much water, but then for qualifying the water levels got high again," said Lorenzo.
"My first lap was without a lot of water so I was the fastest, but then the other riders improved their lap times a lot. With more water on the track I didn't feel confident to further improve my lap time more than 0.5s. This was not enough to be on the second row, but in general we're happy about our progression in the wet."
Despite another less than optimal performance in the wet, Lorenzo looked for the positives in the session, pointing out that it was an improvement on Assen and the Sachsenring. With dry weather forecast for tomorrows 20 lap race, Lorenzo knows that the morning warm-up session will be key in finding the perfect set up.
"We are much better than in Assen and at the Sachsenring, but with so much water it's not enough to be at the top, so we will keep trying next time in the wet. It looks like tomorrow is going to be dry, so we have to use the warm-up to improve the bike a little bit to be more prepared for a dry race," he said.
Photos via Movistar Yamaha