Valentino Rossi: We have a lot of work to do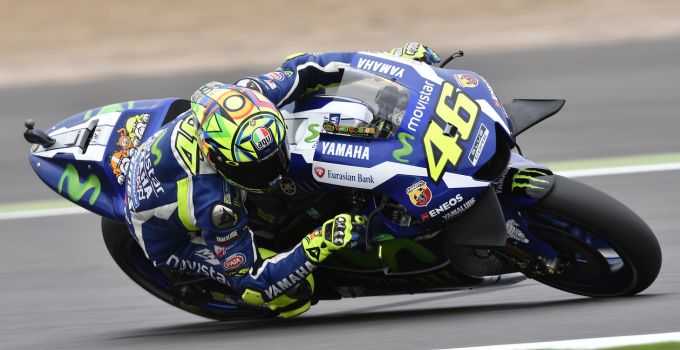 Valentino Rossi has said that there is a lot of work to do after this first day of free practice at Silverstone for the British Grand Prix.
The Doctor ended the first day of free practice at Silverstone sixth fastest overall, 0.8 behind Andrea Iannone, however only just 0.2 seconds behind fourth placed Jorge Lorenzo. 
Rossi was testing a new swingarm and a new chassis today, after being given the new parts by Yamaha for the Brno test. Rossi said during yesterdays pre-event press conference that he would try both pieces before deciding if he would use them this weekend. 
Fortunately for Rossi and the rest of the MotoGP paddock, the track stayed dry. There were heavy looking rain clouds around the circuit all day, although luckily neither MotoGP session was affected by the rain, something Rossi was very thankful for with the work he needed to do. 
"These were difficult conditions, but we were lucky because we were able to do both practice sessions on the dry and were able to use slick tyres," said the Italian.
"We needed to, because we have a lot of work to do: we have the new chassis and swingarm that we need to understand. Some things I like more and some things I like less."
The feeling from Rossi was that he would continue to try and use the new chassis, but not the swingarm. Whilst not totally ruling the new swingarm out, Rossi said that the swingarm wasn't right for Silverstone.
Rossi had said that he will wait and see how tomorrow turns out, however, with rain forecast for tomorrow, work on development time may be limited. 
"For tomorrow we need to understand the right balance, the right stuff to mount. At the end everybody was very fast and with the soft tyre at the end my lap time was not so bad, so I was there and now we wait for tomorrow and hope for better conditions."
Photos via Movistar Yamaha