Marquez planning on using the harder tyre on Sunday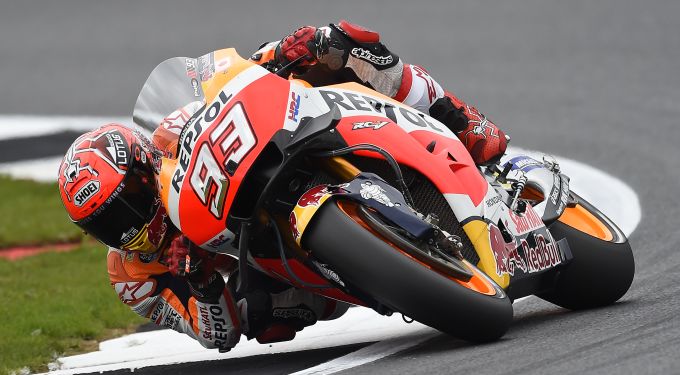 MotoGP World Championship leader Marc Marquez has said that he plans to use the harder compound rear tyre for Sunday's race; providing it doesn't rain.
Marquez ended the first day at Silverstone fifth fastest overall, sandwiched between the two factory Yamaha's in a productive, if not spectacular day for the Spaniard. 
Crashing in the opening session of the day, Marquez found the limit and suffered from a slow speed, cold tyre crash in turn 12. However, Marquez being Marquez took the lessons he had learned from it, and immediately came out with a new tyre combination and jumped up in the standings.
During the afternoon session, Marquez focused on race pace and said that providing Sunday's race is dry, he will use the harder compound Michelin rear tyre.
"This first day went well, especially in the afternoon," said the 23-year-old.
"In the morning we went out with the medium front compound and quickly saw that it wasn't the best choice in that moment, because with the track still being very cold, I crashed when riding very slowly. However, in the second session I gained confidence again, and that allowed us to work very well with the harder rear tyre, which works quite well and seems to be the one we'll go with for the race, as long as it's dry.
Despite deciding already that he will use the harder tyre for Sunday (weather permitting) Marquez did say that he needs to continuing working with the soft tyre to see if there is any scenario in which he will benefit from using it.
"We still need to continue working on the setup and understand the soft rear tyre a little better. The important thing is that I'm feeling good and I have a good pace; I'm happy with how everything went."
Photos via Repsol Honda