Iannone: It's important to get the rear of the bike working well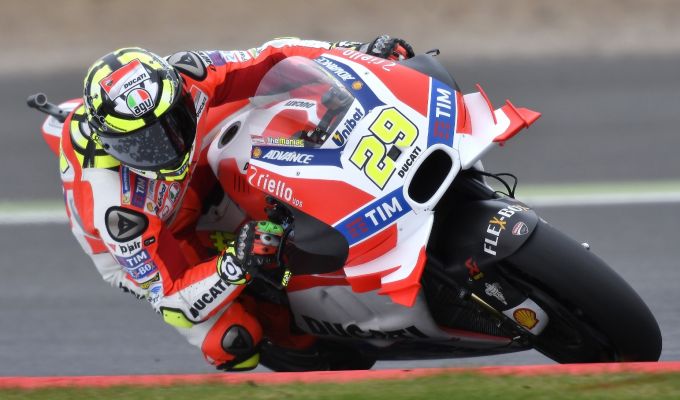 Despite topping the timing screens, Andrea Iannone said that it's important tomorrow is dry as he needs to continue to work towards the set up at the rear of his Desmosedici. 
Iannone continued his good form from the Red Bull Ring in Austria to Silverstone, after a blistering hot FP2 lap that saw him top second placed Maverick Viñales by 0.3 seconds and World Championship leader Marc Marquez by 0.8 seconds. 
After struggling in the morning session, 'the Maniac' reverted back to an old set up that had worked previously for him in the afternoon session. 
"In FP2 we tried to change something from this morning's set-up, but in the end we reverted to using the previous settings because I didn't like the changes very much," said the Austrian MotoGP race winner.
Iannone said that the rear of the bike is an important aspect to fix around Silverstone and that he and his factory Ducati team still have work to do with regards to that. With that in mind, Iannone is hoping that tomorrow stays dry allowing him to focus at set up for the rear of his bike.
"On this circuit it is very important to get the rear of the bike to work well and we are focusing on this aspect. Tomorrow I hope it doesn't rain because we still have a lot of work to do – me, my team and my race engineer, who is also helping me find the best lines on this track."
Photos via Ducati Corse