Marquez ready for "unpredictable" Silverstone weather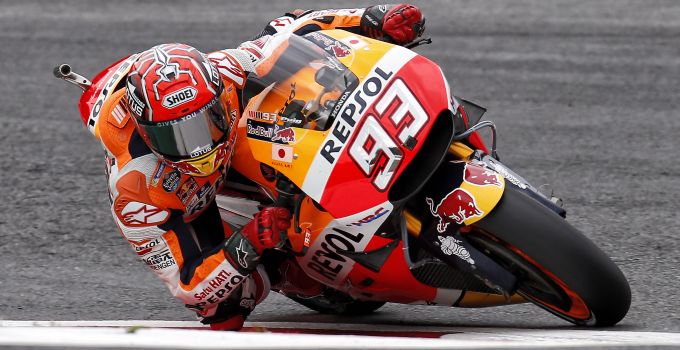 Current MotoGP World Championship series leader, Marc Marquez, has said that he is ready preparing himself for the "unpredictable" Silverstone weather.
The Spaniard currently leads Valentino Rossi in the World Championship standings by 53 points and is a further six points ahead of reigning MotoGP World Champion Jorge Lorenzo. In spite of his cushion atop the standings, Marquez is wary of the conditions he may encounter this weekend.
Despite claiming wins in mixed conditions in Germany earlier this season, and being an accomplished rider in the wet, Marquez did crash out of last years British Grand Prix whilst chasing Rossi for the lead during heavy rain at Silverstone.
With more rain and some colder temperatures forecast for this weekend, Marquez knows that he has to prepare for all eventualities when it comes to the British weather.
"Silverstone is a place where the weather is generally quite unpredictable, meaning that cold and rain are variables you have to be prepared to face," said the 23-year-old.
"We've encountered 'mixed conditions' situations more than once this year, and we saw how important it is to remain focused and make the right choices. We'll see what happens during the weekend and we'll try to manage the situation with the same mind-set that has gotten us this far."
With regards to the track itself, Marquez admitted to being a fan of the Northamptonshire circuit. Despite only claiming one win at Silverstone in MotoGP, it's fast nature combined with sweeping corners through the first sector is something the two-time MotoGP world Champion particularly enjoys. 
"I like the track a lot; it has a slower first section but then there's a series of 'esses' where it's possible to make the difference if you find a good setup for the bike. I've always enjoyed racing there and we'll push at the maximum to get the best result possible."
Photos via Repsol Honda