Marquez heads home to his "favourite track"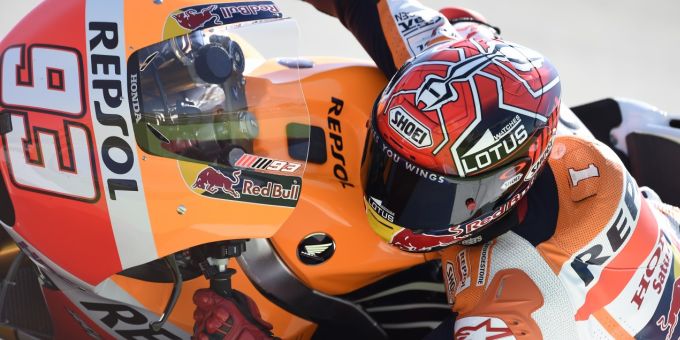 Marc Marquez will be hoping that victory at his "favourite track" this weekend continues to keep his slim chances of a fourth consecutive world title alive.
Marquez, who claimed victory last time out at the weather affected Misano Grand Prix, crashed out of last year's Aragon Grand Prix, due to staying on slick tyres too long. It was the Repsol Honda duo of Marquez and Dani Pedrosa staying out on slicks in the heavy rain who both fell, leaving victory for Jorge Lorenzo on a plate.
It wasn't the first time Marquez controversy had fallen upon Marquez in Aragon, the year before Marquez' contact with Pedrosa prompted a traction control sensor to break, leaving Pedrosa to highside out of the race. Whilst in 2010 whilst chasing his first World Championship, contact in the first corner saw him crash out of the 125cc race in the first corner.
Despite a history of problems and controversy at Aragon, the circuit remains his favourite track.
"After a strange race in Misano, I'm really looking forward to Aragon this weekend! This is my favourite track of the year and we've had good results in the past, despite last year's unfortunate rain-affected race," said Marquez.
"The first and final sections of the track are quite technical and you must work hard on the setup to have good cornering. Let's hope this weekend we can have a 'normal' race weekend with good weather so we can work hard from the Friday and be ready for the fight on Sunday."
After the crash at Silverstone, Marquez found himself 77 points behind Valentino Rossi. Following his win in Misano, the reigning World Champion reduced the deficit to 63 points. Whilst there are only 125 points still available, you feel Marquez would require DNF's from both Yamaha riders to have a serious chance of retaining his title.
Photos via Honda Racing Coperation