Gabbarini: Jorge is one of the fastest or perhaps the fastest in the world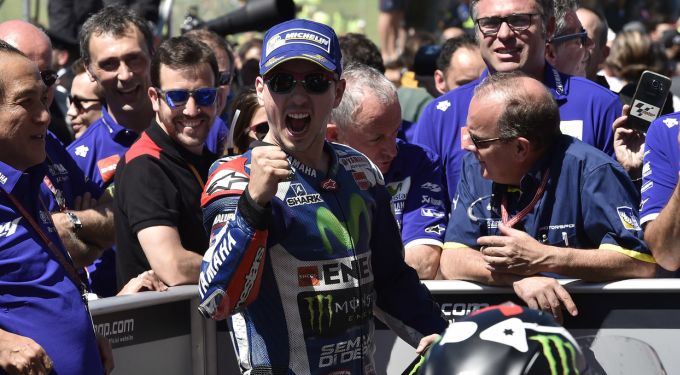 Jorge Lorenzo's 2017 crew chief, Cristian Gabbarini has said that his new rider is one of the, if not the fastest rider in the world. 
The Italian will leave his post as crew-chief to Assen race winner Jack Miller and rejoin Ducati – for whom he helped guide Casey Stoner to the 2007 MotoGP World Championship – to partner up with the incoming Lorenzo. 
Gabbarini was with Ducati whilst working with Stoner before following the Australian over to Honda in 2011 when Stoner joined HRC. When Stoner retired, Gabbarini initially worked in an advisory role, before getting back into the pit working with Miller. 
Leaving the young Australian was a difficult decision, with Gabbarini admitting it was tough to walk away from Miller and his team, but the proposal from Lorenzo and Ducati was too good to turn down. 
"It was very difficult," he told Spanish newspaper Marca.com. "This is my sixth year at HRC and I'm fine with Jack, with the team and everything is working well. Jack is improving and the whole team is doing a good job.
"But at some point, you put everything on the table, and have to decide. For me it was an honour when Jorge asked me to take care of him with Ducati. So that is what I decided."
Despite working together closely next season, the Italian crew-chief did confess that he hasn't sat down and spoken with Lorenzo about next season, with both he and Lorenzo still intensely focused on the 2016 MotoGP World Championship.
"I don't think it's the time to talk about the future, especially with Jorge. I know that Jorge gave my name and is very happy that I'm going there (to Ducati), that's enough for me. Jorge and I have talked in the past, when there were contacts to go to Yamaha," he said.
Lorenzo has been known to get upset with his team and has often needed an arm around his shoulder when things aren't working perfectly. Whilst Ducati team manager Gigi Dall'Igna will be able to help with his former 250cc star, Gabbarini said that Lorenzo's personality isn't something that he's thinking, nor worrying about. 
"I don't think about these things," said Gabbarini. "Casey also had a particular character. Jorge is one of the fastest or perhaps the fastest in the world, and that is enough for me. His character does not matter (to me)."
Gabbarini's current rider Jack Miller will hope to be back in action next weekend for the British Grand Prix at Silverstone after being forced to sit out of the Czech Grand Prix in Brno as he continued to recover from back and wrist an injuries picked up in a warm-up crash in Austria. 
Photos via Movistar Yamaha