Lorenzo targeting Ducati experienced crew-chiefs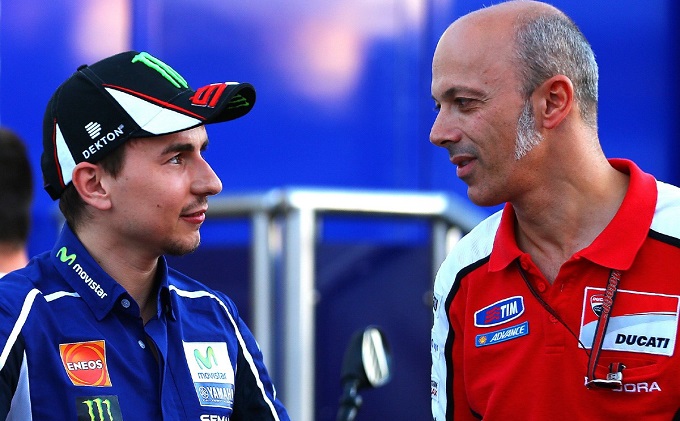 Jorge Lorenzo will target two men with Ducati experience as he starts the search for his new crew-chief for 2017.
The World Champion confirmed during the post-race test in Barcelona that he will lose the services of long time crew-chief Ramon Foracada at the end of this season when he moves to Ducati. Lorenzo asked the Spaniard to follow him – and Forcada has said he would've had Pedrosa replace Lorenzo, and not Maverick Viñales, however due to his age and potential, he decided to stay with Yamaha. 
With Forcada staying at Yamaha with the younger Spaniard, Lorenzo's search for a replacement has began and according to Solomoto, two names appear to be front runners for the role, Christian Gabarrini and Daniele Romagnoli. 
Lorenzo will be joining a team with a bike that is much easier to ride than it has been in recent years, however the Desmosedici is far from the M1, and thus Ducati and Lorenzo both deem experience with Ducati an important trait.
The first name on Lorenzo's "hit-list" is that of Gabarrini. The Italian was the man behind Casey Stoner's success on the Ducati when the Australian won his first MotoGP World Championship on the Ducati in 2007. Gabarrini then followed Stoner to Honda in 2011, before the Australian's sudden decision to retire in 2012. Honda had then earmarked him to inherit Marc Marquez, however the Spaniard was comfortable and retained Santi Hernandez when he stepped up from Moto2. 
Gabarrini is currently crew-chief to Jack Miller in the Marc VDS team, however the allure of working with the three-time World Champion, and going back to Ducati may be enough encouragement for him to return to Ducati with Lorenzo. 
The second name is hardly a surprise. We reported that Romagnoli was the early name GPxtra had heard from sources when Lorenzo confirmed that Forcada would be staying with Yamaha, and it's easy to see what Lorenzo would turn to Romagnoli.
Formerly the head of Lorenzo's side of the garage, Romagnoli decided he wanted to get back into the technical side of things after Lorenzo's first title in 2010 and became crew-chief to Cal Crutchlow in the Tech3 team. When the Brit moved over to Ducati, Romagnoli followed Crutchlow to the factory Ducati team. However, when Crutchlow left for the LCR Honda team, Romagnoli stayed, instead moving to the Pramac team to become crew-chief to the newly acquired Danilo Petrucci. 
Whether Romagnoli would be happy to move back to the Factory Ducati team remains to be seen, however with both Romagnoli and Gabarrini, it is clear that Lorenzo is targeting someone with experience of multiple bikes and someone who has worked with Ducati.
The fact that both men are Italian will also be an important factor. With just Juan Llansa coming with Lorenzo from Yamaha, there is a potential that a lot of Lorenzo's new crew may be Italian, and whilst the Mallorcan can speak Italian, having an Italian to help translate instructions and explain the feeling on the bike will be an invaluable asset. 
Expect more rumours when the paddock comes back together in Assen in just under two weeks time. 
Photos via Movistar Yamaha